Posted on
Tue, Jul 23, 2013 : 5:58 a.m.
Developer Stewart Beal asks for extension on 3-year Thompson Block timeline
By Tom Perkins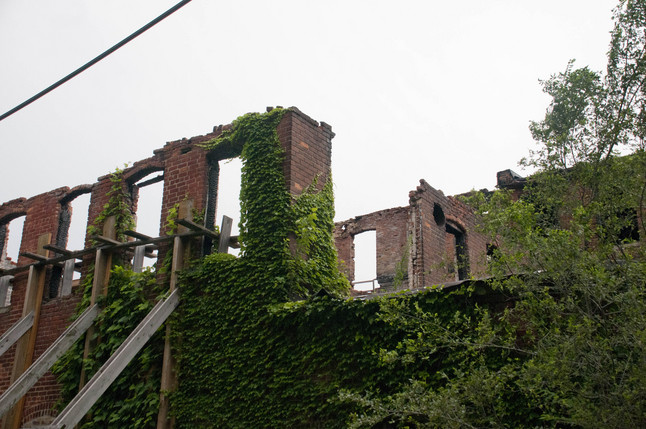 Tom Perkins | For AnnArbor.com
A new website dedicated to an Ypsilanti landmark has popped up. Thompson-Building.com features a clock counting down to the deadline for the completion of the Thompson Block building's envelope.
Per an agreement forged after four months of legal wrangling in 2010, the Thompson Block is to have its outer envelope, including all outer walls and the roof, completed by Sept. 1.
As the Thompson-Building.com clock points out, the deadline is fewer than 40 days away.
On July 16, Stewart Beal, the head of the Thompson Block LLC investment group that owns the 150-year-old former civil war barracks, sent a letter to the city informing it that the deadline would not be met.
Beal declined to provide the letter to AnnArbor.com and the City Council is discussing the case in closed session.
While the details of the plan aren't publicly available, Beal recently told the Ypsilanti Downtown Development Authority the building would be finished by the end of 2014 or beginning of 2015.
Beal also recently announced leases and letters of intent for 16 luxury lofts and about 14,000 square feet of commercial space will be accepted over the next three months. On Friday, Beal posted on his Facebook page that he pitched the Thompson Block as an investment opportunity to 150 members of Michigan Real Estate Investors group and is organizing tours of the property with them over the next week.
But with the project deadline likely pushed back until late next year at the earliest, some in the city are wondering why Beal, who owns a construction company, was unable to complete the envelope of a building within a timeline that he developed.
Beal explained that the formation of a new ownership group and new plans for the luxury lofts and retail space were only recently announced and completion of the envelope by the deadline is no longer possible.
When pressed to explain why the envelope wasn't completed over the past three years, his response was simple.
"(The plans) just don't fit in with the timeline anymore," he said.
The city and Beal engaged in a bitter fight in 2010 that involved litigation and ultimately arbitration to come to the agreement.
So what do those city council members who were part of that battle think of the project remaining unfinished?
Council Member Pete Murdock said it's obvious Beal and Thompson Block LLC don't have the funds to complete the project and he is no longer sure the project is even realistic.
"This was his schedule, his timeline, it came from him, and obviously he's not going to meet it, so the question is 'Where to go from here?'" Murdock said. "What is he offering? If he wants an extension to move on it's all good, but where's the beef? Is there anything realistically that's going to happen either way?"
Mayor Paul Schreiber, who was more supportive of Beal than Murdock in the 2010 battle over the building, said the City Council has discussed Beal's letter in closed session and is weighing its options.
"It's a historic building and it adds a lot of value to Depot Town, so I'd like to see it redeveloped, as do other council members, so we need to see what our options are and how we can work with Stewart to make this happen," he said.
Council Member Brian Robb expressed some frustration.
"Everyone wants to see the Thompson Block completed. The frustrating thing about it all is we are following the timeline that Mr. Beal proposed three years ago," Robb said. "How can we take seriously any new proposals he gives us considering the lack of progress the past three years?
"He could have waited until September to approach us about the agreement. That he's doing it in July has to be worth something, right?"
In regards to the countdown clock, Beal said he hadn't heard about it until AnnArbor.com informed him.
"I have not had a chance to review the website in detail and I don't know who owns it, but it is always great to see Ypsilanti's residents' passion for the Thompson Block. This passion is what makes Ypsilanti a great place to live, work and play," Beal said.
According to records, the website is registered to jailed landlord David Kircher, who Beal bought the building from in 2006.
Tom Perkins is a freelance reporter. Contact the AnnArbor.com news desk at news@annarbor.com.