Posted on
Mon, Jul 18, 2011 : 5:59 a.m.
EMU cuts 81 positions ranging from highly paid administrators to hourly laborers
By Cindy Heflin
(This story was revised to correct information about positions that were not filled following retirements.)
Eastern Michigan University cut a total of 81 full and part-time positions last month, saving $4.24 million in salaries, information obtained through an AnnArbor.com Freedom of Information Act request shows.
The number represents about 4 percent of the university's nearly 2,000 employees. Total savings, including benefits, as a result of the cuts were expected to be $5.4 million, EMU said last month.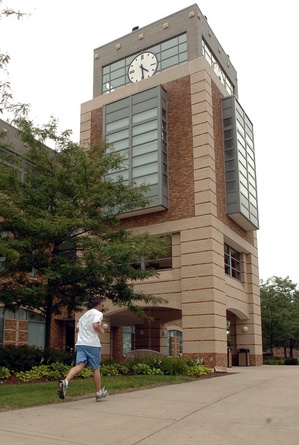 File photo | AnnArbor.com
Among the positions cut, 38 were vacant. The remaining 43 resulted in layoffs, but the university has recalled some of those workers, university officials said Thursday, and only about 34 now remain laid off. Four of those were voluntary layoffs.
"We're continuing to work through it and some people have been called back and we're going to continue to work closely with our unions and employees and try to address things as positively as we can," said Walter Kraft, EMU vice president of communications.
The layoffs came following approval of a $281.4 million budget in which the university absorbed an $11.4 million cut in its appropriation from the state and dealt with a projected $12 million increase in expenses.
The positions cut run the gamut from administrators paid well over $100,000 per year to a vacant half-time grounds position that paid just over $12,000 per year. The cuts included 12 part-time positions.
The highest-paid position on the list is the dean of Extended Programs and Educational Outreach. The salary for that vacant position was listed at $147,359. The associate dean of the program was also cut. That position, also vacant, had a salary of $103,612. The program oversees online courses as well as off-campus locations, Kraft said.
Despite the cutting of its dean and assistant dean, the EPEO program will continue to function, Kraft said.
Among those laid off was an associate academic dean, who made $136,000. EMU also will not fill the position of an assistant dean in the College of Business, who retired and had been making $102,841.
The university also laid off its associate athletic director, whose salary was $87,565, and will not replace the recreation/intramural director, who retired and had been making $99,215. Supervision of recreation and intramural sports will be overseen by Ellen Gold, who now has the title of executive director of student well being.
Communications appeared to take a significant hit. EMU laid off an assistant manager of news services, making $51,852, a news services manager making $60,537, and its director of web communications, who made $88,182.
The list includes several secretaries, administrative associates and customer service representatives, as well as several custodial jobs.