Posted on
Sun, Dec 12, 2010 : 1:30 p.m.
Ypsilanti's FLY Art Center helps low-income children express their creativity, expands its social role
By Tom Perkins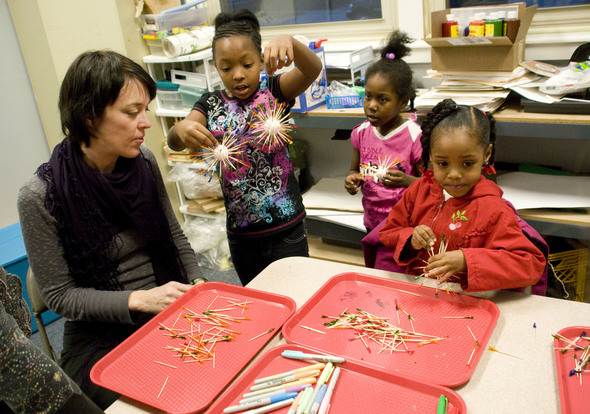 Tom Perkins | For AnnArbor.com
Ypsilanti's FLY Children's Art Center founder Ruth Marks has long wanted to bring art to low-income and at-risk children. To help her do that, she's taking a page from the playbook of TOMS Shoes. For every pair of shoes someone buys, TOMS, an increasingly popular and hip canvas shoe company, provides a pair for a child in need.
In that spirit, Marks is using proceeds from FLY's art kit sales and a recent fundraiser to provide 40 kits and free classes to kids from a low-income neighborhood on the south side of Ypsilanti.
The kits will be distributed at a Parkridge Community Center holiday party on Dec. 18 to children who have also been participating in free weekly classes Marks offers there.
Marks says the kids at Parkridge have been among the more enthusiastic to participate in the programs, which are now held daily throughout the region.
"The kids are so sweet and ready to do something, so ready to be active and to participate," Marks said.
The concept behind the kits is to provide a portable version of the hourlong sessions Marks and several volunteers offer weekly at each location. Parkridge's children will receive one of two kits. In the marble chute kit, supplies are provided to construct and decorate a marble roller coaster, while the second kit holds materials to make and decorate puzzle monsters.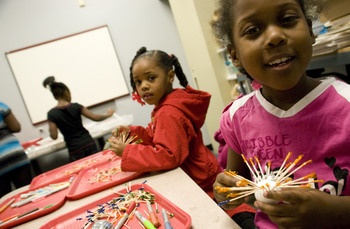 Tom Perkins | For AnnArbor.com
During the four months FLY has been offered at Parkridge, Marks noticed many of the kids didn't have access to markers, scissors or other basic art supplies at home. Because the kits are provided under the assumption that kids have access to those supplies, some of the proceeds were also used to buy scissors and markers to accompany each kit.
Marks praised Anthony Williamson, director of Parkridge, and the center staff for forming a strong partnership with FLY. The center, located in south Ypsilanti, is the focal point for the youth of a community largely comprised of government subsidized housing. Parkridge is partially funded by the city and has faced budget cuts in recent years, but continues to offer and partner with strong community programs like FLY.
Tom Perkins | For AnnArbor.com
Marks also said the effort wouldn't have been possible without Ypsilanti-based Live, Learn, Inspire, Create Magazine's support. In keeping with its mission of supporting Midwest artists and businesses, the magazine recently contributed $300 in proceeds from an "art battle" — something akin to a battle of the bands — to FLY. That help was essential in making a 40-kit giveaway possible, Marks says.
Aside from expanding into Parkridge, FLY entered a partnership with 21st Century Scholars program earlier this year. The group secures federal grant funding to help programs like FLY work with at risk schools. Through the partnership, FLY offers classes once a week for elementary age children in Willow Run, Ypsilanti and Westland school districts.
"That has been really amazing and goes straight to my mission," Marks said of the relationship with 21st Century Scholars. "It has really been a boon for FLY."
Marks said FLY is intentionally growing slowly, but will take a significant step this January when help is hired to offer programs in two locations at the same time. Since its inception, Marks has become more skilled at working with school administrations or community centers, and, with the help of volunteers, she says she now feels comfortable expanding.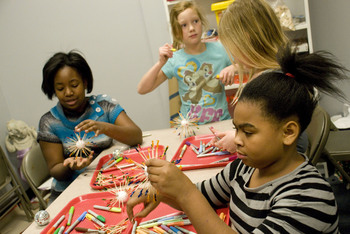 Tom Perkins | For AnnArbor.com
That will help her further advance her mission of providing at-risk children access to art.
"When I was starting FLY, those were the kids I had in mind all along," she said. "You almost have to look at nonprofit work as being a social entrepreneur and becoming a business that can support itself without outside help. We're not there yet, but I've always wanted to work with at-risk kids in Ypsilanti, and I almost have FLY to where it's stable enough that we can do programs that aren't paid for."
FLY's art kits are available at its Etsy store for $10 each or $25 for three. For more information on FLY and its many programs, or how to get involved, visit its website at www.flyartcenter.org.