Posted on
Thu, Jun 14, 2012 : 5:57 a.m.
House passes bill named for student kicked out of EMU program for refusing to counsel gay client
By Cindy Heflin
Editor's note: The headline of this article has been corrected to reflect the fact Ward was dismissed from an EMU program.
The Michigan House has passed a bill prohibiting religious discrimination against college students studying counseling, social work and psychology.
The bill was prompted by the case of Julea Ward, who was kicked out of a counseling program at Eastern Michigan University because she refused to counsel a gay student about a relationship. She said doing so conflicted with her Christian religious beliefs. She instead referred the student to another counselor.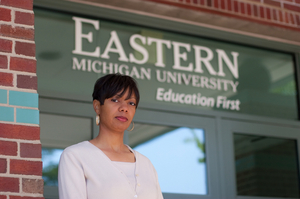 Ward sued EMU in 2009,
but lost in the lower courts
. Ward and her attorneys,
the Alliance Defense Fund
, a legal organization that works to uphold the rights of religious college students and faculty, appealed to the U.S. Court of Appeals for the Sixth District.
A three-judge panel of the court said a jury could conclude the university used a code of ethics it adheres to "as a pretext for punishing Ward's religious views and speech" and sent the case back to a lower court for a jury trial. EMU denies any bias.
Leigh Greden, director of government and community relations for EMU. said EMU remains firmly opposed to the bill because it could jeopardize the accreditation of EMU and other public universities' counseling programs. He said other universities and groups representing health care professionals also oppose the bill.
"The case has never been about religion but rather about following the guidelines of our academic program and the accrediting bodies," said Greden.
Jeremy Tedesco, a lawyer for the Alliance Defense Fund, which is representing Ward in her lawsuit, called the assertion that the bill could jeopardize accreditation a red herring. He said the code of ethics followed by EMU allows for referrals and that what's important to accrediting agencies is the curriculum being taught, not adherence to a code of ethics.
"We're encouraged that the elected representatives of Michigan have taken a concern in this case and decided to act," he said.
Bill 5040, also known as the "Julea Ward freedom of conscience act, passed 59 to 50 Tuesday. It now goes to the Senate for consideration.
State Rep. David Rutledge, D-Ypsilanti, who voted against the bill, said in a written statement that he fears the bill could legalize all forms of discrimination based ostensibly on religious faith.
"What that legalization could mean for Michigan, and for the kind of state we hope to become, is deeply troubling."
State Reps. Jeff Irwin, D-Ann Arbor, and Mark Ouimett, R- Scio Township, also voted against the bill. Rick Olson, R-York Township, voted for it.