Posted on
Sun, Feb 19, 2012 : 8:54 a.m.
iPad thief drops cell phone during heist
By Paula Gardner
It may have seemed like the perfect theft - meet a person who wants to sell an iPad, then just grab it and run away.
But for an Ypsilanti man now awaiting charges in the Washtenaw County Jail, the scenario took a different twist.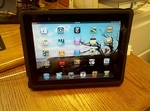 An iPad, which retails for about $499.
He dropped his cell phone during the theft, essentially giving police a roadmap to find him.
The situation took place at about 4 p.m. Saturday in the 600 block of Armstrong, according to Ypsilanti Police.
The victim was meeting with the suspect to show him the iPad, but that's when the suspect ran off.
Thanks to the cell phone, police were able to determine the man's identity.
They went to his home, where he fought with police and once again tried to run away, according to an incident summary.
This time, he was caught a few blocks from his home. He was taken to the jail, where he was awaiting charges of both larceny from person and assault on a police officer.
This story will be updated.