Posted on
Fri, Feb 3, 2012 : 4:45 p.m.
Katharine Mishler to serve 20 to 32 years in prison for murdering husband
By Kyle Feldscher
Previous story: 911 call: 'I just had an intruder ... and I shot him' says woman convicted of killing husband
The woman who pleaded guilty to murdering her husband in March will serve up to 32 years in prison, according to a judge's ruling on Wednesday.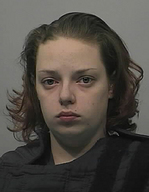 Katharine Mishler, of Ypsilanti Township, was sentenced Wednesday on one count each of second-degree murder, making a false report of a crime and a felony firearm charge. She pleaded guilty to second-degree murder on Dec. 14.
Mishler was ordered to serve between 18 years and 30 years for the second-degree murder charge and between 32 months and four years for making a false report of a crime, according to court officials. The sentences will run concurrently, meaning she will serve them at the same time. Mishler was also sentenced to a mandatory two-year prison sentence for the felony firearm charge, which must be served consecutively to the other prison terms, according to court officials.
Mishler received 315 days of time served credit on the felony firearms charge, according to court officials. She received no credit on the sentences for second-degree murder and making a false report of a crime.
According to court testimony, Mishler shot Samuel Mishler at about 1:45 a.m. March 23 at their Tuscan Creek Apartment in the 200 block of Stevens Drive in Ypsilanti Township. She originally told police dispatchers she had shot an intruder, according to evidence at a preliminary exam.
Mishler eventually told police she and her husband were in the living room of the apartment when an argument began. The couple's dog continued to jump on Samuel Mishler, angering him, and she was tired of having to do chores, according to police.
Police said Mishler told her husband to leave the apartment or she was going to shoot him, but he refused. She walked into a bedroom, where the couple kept three guns, picked one up and cocked it in an attempt to frighten Samuel Mishler, police said.
Samuel Mishler challenged Mishler to pull the trigger, police said. Bader Cassin, the Washtenaw County chief medical examiner, said the muzzle of the gun was pressed to Samuel Mishler's head and one shot was fired, killing him instantly.
Kyle Feldscher covers cops and courts for AnnArbor.com. He can be reached at kylefeldscher@annarbor.com or you can follow him on Twitter.