Posted on
Wed, Mar 14, 2012 : 9:58 a.m.
Man facing federal charges in robbery at 7-Eleven in Ypsilanti Township
By Lee Higgins
A man is facing federal charges after investigators said he fired a shot during a robbery last June at a 7-Eleven in Ypsilanti Township.
Mario Hairston, 26, was charged Tuesday in a federal criminal complaint with being a felon in possession of a firearm, discharge of a firearm during a crime of violence, interference with commerce by threats or violence and delivery of a controlled substance.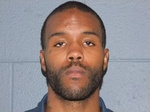 Agents said Hairston wore a mask as he robbed the 7-Eleven at 2200 Ellsworth Road at 3:24 a.m. June 7, taking $100 cash and 10 packs of cigarettes. Investigators said he pointed a gun at a customer and stole her purse. Police also said Hairston pushed a cashier behind the counter and fired a shot.
Agents identified Hairston as being responsible after his fingerprints were found on a withdrawal slip passed at a bank two days after the robbery, an affidavit by ATF Special Agent Joseph Nether says. Hairston was allegedly attempting to withdraw money from one of the robbery victim's bank accounts. In addition, investigators said they recovered a necklace Hairston wore during the robbery.
Some charges stem from a search warrant executed at his Ypsilanti Township home while the robbery investigation was ongoing. Agents and Washtenaw County sheriff's deputies were conducting a separate drug investigation and found more than 27 grams of marijuana and a loaded revolver during the Aug. 24 search, the affidavit says.
Hairston is in prison on a parole violation. He has previous convictions for breaking and entering and conspiracy to commit second-degree home invasion, court records show.
Lee Higgins covers crime and courts for AnnArbor.com. He can be reached by phone at (734) 623-2527 and email at leehiggins@annarbor.com.