Posted on
Mon, Mar 5, 2012 : 3:43 p.m.
Shooter sentenced to 30 to 60 years for killing Ypsilanti Township man last year
By Kyle Feldscher
The Ypsilanti man found guilty of murdering a 33-year-old man in Ypsilanti Township last year will go to prison for 30 to 60 years, according to a sheriff's office officials.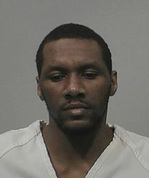 Darnell Brown was found guilty of shooting and killing Marcus Jones, 33, and shooting a 29-year-old Inkster man twice in the back at about 2:30 a.m. Feb. 26, 2011 in the 1300 block of Nash Avenue, according to Washtenaw County Sheriff's Office spokesman Derrick Jackson.
Washtenaw County Trial Court Judge Archie Brown sentenced Brown on Wednesday between 30 and 60 years in prison on the murder charge, Jackson said.
According to police, Darnell Brown showed up at a party at Jones's house on Feb. 26, 2011. Brown and Jones had a longstanding feud and Jones confronted Brown outside the home, telling him he wasn't welcome at the party.
According to police, Brown responded by pulling a gun from his waistband and opening fire on Jones. Jones was fatally wounded in the head, according to police.
The Inkster man, with whom Brown was also feuding, ran away from the scene after Jones was shot and Brown turned the gun on him, hitting him twice in the back, police said. The Inkster man survived his injuries.
An unidentified person shot Brown once in the stomach, according to police. The man was never identified and charged.
A friend was driving Brown to the hospital when the car was involved in an accident on Interstate 94, according to police. He eventually made it to the hospital by ambulance, according to police.
Kyle Feldscher covers cops and courts for AnnArbor.com. He can be reached at kylefeldscher@annarbor.com or you can follow him on Twitter.