Posted on
Thu, Jan 26, 2012 : 11:50 a.m.
Michigan Roots Jamboree co-founder Andrew Clock named Ypsilanti Heritage Festival coordinator
By Tom Perkins
The Heritage Festival has turned to Ypsilanti's younger generation to take over the annual festival's leadership.
Andrew Clock, who co-founded Ypsilanti's Michigan Roots Jamboree festival and is deeply involved in the community, was named the Heritage Festival's coordinator on Jan. 24.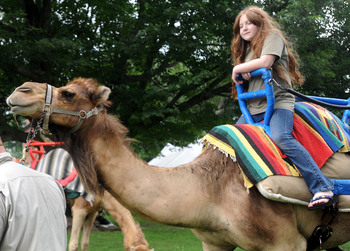 Angela J. Cesere | AnnArbor.com
The move comes several months after a group of leaders, including several members of the Festival Steering Committee and its co-coordinators,
parted with the festival
for personal reasons. That leadership group had been in place for around 13 years.
"I think they're to the point where the older folks have run their course and they're ready to take a step back," Clock said. "If they want to keep the festival going, then they need to hand it down to the next generation."
Clock said one of his primary goals is to make the festival more relevant for the 18-to-35-year old age set while preserving the festival's traditions and aspects that already make it attractive to people who have attended since its inception 30 years ago.
He said that could include working with more local bands, local artists and new businesses that have popped up in the area in recent years.
"I want to attract a younger demographic, but at the same time I don't want to discount people who have been coming for years and years," Clock said. "If you have come to the festival for last 10 years, you aren't not going to come and wonder 'What happened to our festival?' I want those people to come down and say 'These are really great additions.'"
Clock was a founding member of the Jamboree, which is a large annual summer music festival held in Ypsilanti. He worked for three years as their volunteer manager, though he says Jamboree organizers wore many hats and he has experience with all aspects of running a large festival.
That and experience with other local projects has helped Clock develop a network in the community, and it provided him experience in working with sponsors. Barry Marshall, Chairman of the Heritage Festival's Board of Trustees, said in October that identifying new funding sources was one of the critical issues facing the festival.
Clock said he doesn't yet have information on the festival's finances, but said fundraising is always one of the more challenging issues. Bringing new sponsors and volunteers aboard will be two main focuses for the upcoming year, he said, and offering sponsors naming rights to a stage or giving them something in return is one approach to attracting new funding sources.
"I'll have a steep learning curve and this will be a much different experience, but my experience at the Jamboree has given me a leg up," he said.
The festival will continue refocusing on Ypsilanti's history as it has done in recent years, and Clock said the gaming tent, which was held off-site last year, will return. He underscored that all the old favorites will be back, even as the event sees some changes to focus more on what the community's younger population is doing.
"Overall, what I'm really hoping to do is build on what (the festival) has been for the last 30 years," Clock said. "Just try to make it something that's really trying to focus on what we have going on now and all the great activities happening in Ypsilanti."