Posted on
Thu, Feb 2, 2012 : 2:15 p.m.
More than 9,000 Michigan crashes involved cellphones over past 10 years
By Paula Gardner
Distracted driving is getting worse in Michigan, according to a new statewide report from MLive.com, which shows that at least 900 crashes involving a cellphone were reported in 2010.
Over the past decade, according to the report, more than 9,000 crashes were reported - and another 34,000 involved other forms of distracted driving.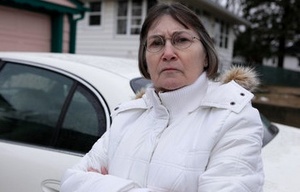 Chris Asadian | AnnArbor.com
Mary Williams of Ypsilanti is one person who's been affected. She and her mother were in a crash in Bay County that was caused by a 16-year-old who'd dropped her cellphone.
Now, Williams told Mlive.com, "I received a neck injury and a pretty bad concussion. I'm still suffering repercussions from that with memory loss."
The story is part of an investigation by news organizations within the new MLive Media Group. AnnArbor.com has its own localized story scheduled to run on Sunday.
Read the overview report on distracted driving.