Posted on
Mon, Oct 10, 2011 : 4:13 p.m.
Ypsilanti Heritage Festival leadership in flux after organizers announce departure
By Tom Perkins
The future of Ypsilanti's Heritage Festival is in question after a group of its leaders announced they will not renew their contracts with the festival for next year.
Barry Marshall, chairman of the festival's Board of Trustees, said several members of the Festival Steering Committee and its co-coordinators are parting with the festival at the end of the year for separate personal reasons.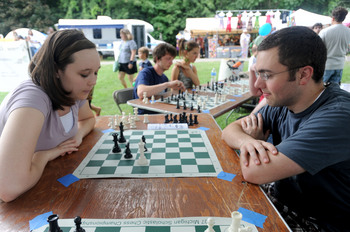 Angela J. Cesere | AnnArbor.com
The board of trustees and steering committee are inviting the community to an informational meeting on the openings and festival's needs on Oct. 18 at
Spark East
. Those interested in signing up for any of the positions may do so at the meeting.
Marshall said the current leadership team has been in place for 13 years and some had personal reasons, such as job relocation, for leaving, while others were simply tired from organizing the event for so long.
He said the high number departures at once was only a matter of timing.
"They're tired, and it seemed like a good idea to see if we can bring in some new, community-minded people who can help us out," he said. "There was no disagreement over the direction or anything like that. Everyone agreed that they wanted to see the festival continue and (the former leaders) will be around in some capacity next year, even if it's just for a phone call, so no one is taking off and running."
Marshall said the remaining committee is looking for people who live in and understand Ypsilanti, are highly creative, possess project management skills, can work with multiple groups from around the city and have a passion for the festival. The position is paid, though Marshall declined to say how much.
"I know they're out there, so now is a great opportunity," he said.
If the committee is unable to quickly assemble a new team, then the festival could be canceled or scaled back, Marshall said.
"If we don't have a clear picture of who is going to run this next year, I'm not sure we do this," Marshall said, adding that there will be a period of transition from the old coordinators, Cathy Bennett and Lynda Hummel, to the new coordinators.
Hummel and Bennett also served on the board of trustees and steering committee. Three other steering committee members also are planning to leave, and Marshall said some on the board of trustees could soon depart, as well.
Hummel declined to discuss her departure with AnnArbor.com.
The festival also is looking for volunteers to serve as treasurer and food vendor coordinator, among other positions.
One of the biggest challenges facing the current leadership is identifying new funding sources and keeping the festival solvent, Marshall said. The Heritage Festival, which started in 1979, is a free three-day event held each late August.
Because it is free, fundraising and sponsorship is crucial to the event's survival, Marshall said.
"It is a big concern," he said. "Fundraising in this economy, particularly in Ypsilanti, has been difficult. So keeping the festival free has been an increasing challenge over the last several years."
He added that no options are off the table, and the leadership might look at different entertainment, activities, food vendors and more.
The meeting with the public is Oct. 18 at 7 p.m. at Spark East, 215 W. Michigan Ave. in downtown Ypsilanti. For more information, email Marshall at ypsiheritagefestival@gmail.com.