Posted on
Wed, Aug 28, 2013 : 5:55 a.m.
Planning Commission to consider rezoning to allow parking for Thompson Block
By Tom Perkins
The Ypsilanti Planning Commission will consider a request to rezone the Thompson Block and an adjacent property into a planned unit development.
The change will allow developer Stewart Beal to combine the Thompson Block property and the property to the east to create parking for the Thompson Block building project.
City Planner Teresa Gillotti said the Thompson Block is a unique, historic project, so she believes it fits for approval to be rezoned from B3 central business district; R1, single family residential; and Historic District Overlay to a PUD.
The planning commission will vote on recommending approval of the change to City Council Wednesday night after a public hearing at its regular meeting. The City Council will then take up the issue at its next meeting.
Redevelopment of the Thompson Block would provide 10,000 square feet of combined retail and commercial space on the first floor and 16 lofts on the upper floors, and the development would take up .56 acres on a busy Depot Town intersection.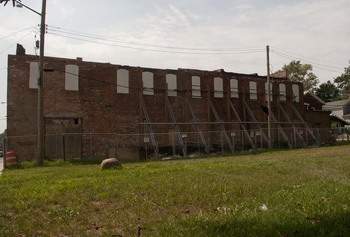 Tom Perkins | For AnnArbor.com
"We see the project, if it's able to progress, as incredibly positive for the city and Depot Town as a whole," Gillotti said.
The Thompson Block runs from 400 through 412 N. River St. Beal owns the two properties directly to the east of the 150-year-old building at 107 and 113 E. Cross St. As part of the proposal in front of the planning commission, 107 E. Cross St. would become part of the Thompson block property.
113 E. Cross Street has a multi-unit house Beal rents out and would likely become part of the project in the future.
He purchased the property at 107 E. Cross St. from a bankruptcy auction of properties formerly owned by David Kircher and demolished a vacant house on it. Kircher was jailed for five years after being caught pumping raw sewage from one of his apartment buildings into the Huron River and was forced to sell his properties to pay off debts.
"The lot will accommodate parking for the Thompson Block, which is a good idea for a building with commercial use and two stories with 16 lofts," Gillotti said. "They will be doing that on a vacant lot and what was once a problematic Kircher lot. It's a reactivation of a key corner in Depot Town."
Beal is in the process of trying to raise $1.74 million by selling 174 shares at $10,000 a piece to partially fund the redevelopment. The rest of the funding for the approximately $4 million renovation will come through a loan, Beal said.
The project's latest timeline has its completion slated for the end of 2014 or early 2015, and Beal has been looking for potential commercial and residential tenants to sign pre-leases for an early 2015 move in.