Posted on
Wed, Feb 1, 2012 : 12:44 p.m.
Police release more details on construction accident at Lincoln High School
By Kyle Feldscher
Police are releasing more details on the construction accident Tuesday morning at Lincoln High School that sent one worker to the hospital after he fell about 50 feet.
Washtenaw County Sheriff's Office spokesman Derrick Jackson said two workers were in the boom lift working on a steel truss at about 11 a.m. Tuesday morning. Jackson said the truss weld broke and pulled out of its support pocket, falling onto the lift bucket.
Both workers were ejected from the lift bucket, with one worker falling 40 feet and landing on a cement wall, Jackson said. After hitting the wall, he fell into a pit about eight feet below ground level, Jackson said.
The second worker was trapped about 35 feet in the air, hanging upside down from his safety harness, Jackson said.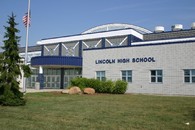 Photo courtesy of Lincoln Schools
The worker who fell into the pit was conscious, but in "severe distress," Jackson said. Rescuers from Huron Valley Ambulance and the Augusta Township Fire Department in addition to the Washtenaw County Sheriff's Office school officer assigned to Lincoln High School put the man on a backboard and lifted him on to a scaffold to get him out of the pit, Jackson said.
He was transported by Survival Flight to St. Joseph Mercy Hospital and was in serious but stable condition, Jackson said.
The second worker was lowered by coworkers to safety, according to Jackson. He had minor shoulder pain but refused medical attention, Jackson said.
The men were on a construction crew for Clark Construction, building an addition to Lincoln High School, Jackson said. The addition will be a new auditorium on the west end of the building.
The Michigan Occupational Safety and Health Administration was reporting to the site Wednesday for an investigation, Jackson said.
Kyle Feldscher covers cops and courts for AnnArbor.com. He can be reached at kylefeldscher@annarbor.com or you can follow him on Twitter.