Posted on
Thu, Aug 22, 2013 : 11 a.m.
Public gets chance to view Thompson Block interior in Beal effort to raise funds, find tenants
By Tom Perkins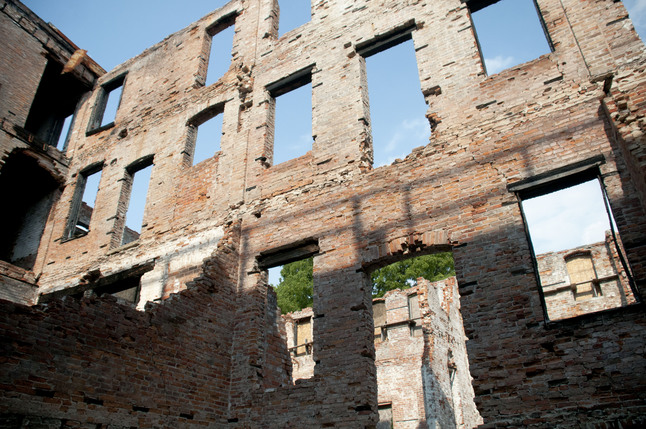 Tom Perkins | For AnnArbor.com
On Wednesday evening, Paul Larned took a stroll through the largely gutted Thompson Block building.
Some of the bricks in the former civil war barracks have stood for 150 years, while others were just put in place by masons who worked on the building as guests came through.
Like some of the expected 150 visitors - and dozens who had made their through by 5 p.m. - to the Thompson Block open house, Larned is an investor who who learned about the project through a presentation by Developer Stewart Beal to the Michigan Real Estate Investors group.
Although the building's interior is partitioned by crumbling brick and wood walls, and although it's a space with a vision that requires a wealth of imagination, Larned liked the potential it offers.
Tom Perkins | For AnnArbor.com
"It's a great project. I like to see buildings that are in disrepair rebuilt and utilized again," he said. "It drives me crazy that we in the U.S. tear down so many buildings while people in Europe are living in buildings that are thousands of years old."
Beal, who is head of the Thompson Block LLC, the group that owns the 150-year-old structure, prepared the showing to generate interest in investment in the building and help secure pre-leases for the property's opening scheduled for 2015.
So far, Beal said he is in talks with around a dozen potential tenants who he would like to see commit through pre-leases to moving into the Thompson Block in 2015's first quarter.
His goal is raise $1.74 million by selling 174 shares at $10,000 a piece to partially fund redevelopment of 16 luxury lofts as well as 14,000 square feet of commercial space. So far, he has raised $370,000.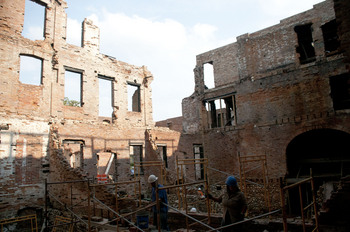 Tom Perkins | For AnnArbor.com
The realty team handling the leases from Howard Hanna Real Estate helped provide the tours highlighted some of the advantages.
"This building is a canvas," said agent Tyler Weston. "That's one of the positive things; this is kind of build to suit. Before the fire everything was locked in, but now we can really build to suit."
Weston also highlighted a few new details, such as outdoor decks planned for the third story lofts.
Larned said he understands that there is some disbelief when a developer proposes idea for such a large renovation, but he thinks the Thompson Block has its advantages.
"It's got a good location in Depot Town," Larned said. "There are a lot of people paying a lot of money for space in the Ann Arbor area."
Beal said current Beal Properties tenants, neighbors, city officials, history buffs and others looking for living or commercial space had toured the building.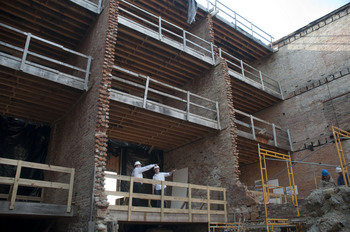 Tom Perkins | For AnArbor.com
He said he brought in the masons to show that several people working can get the project done.
"We want a skeptic to see that this can be done," he said.
Beal also highlighted that the Thompson Block will be combined with several properties he owns to the east that will mostly be used for parking. That means the project will grow to include a large portion of Cross and River Street's northeast corner.
Plans call for the remainder of the approximately $4 million renovation's funding to come from a $2 million loan. Investors' shares and the loan will be paid down by sale of an already secured $2.5 million in historic tax credits.
Beal said that model was employed when the Motown Construction Partners LLC _ whose managing partner is Fred Beal, Stewart Beal's father _ brought 23 investors on board to buy shares averaging $50,000 each to help fund the $53 million renovation of downtown Detroit's Broderick Tower.
While the public was welcome to view the Depot Town structure on Wednesday, Beal is looking for investors with a net worth of $1 million, not including a single-family residence.
The 16 lofts planned for the building are between 610 square feet and the largest at 1,187 square feet, and Weston said the rent would range from $780 to $1,300 per month.
According to the listing, the commercial spaces range from 1,100 square feet, up to the entire 14,000-square-foot commercial space at $16 per square-foot.