Posted on
Sun, Apr 14, 2013 : 11 a.m.
'Seed bomb' planned to sprout new life on Water Street
By Tom Perkins
Ypsilanti's system of green space that winds through the city along the Huron River is among its greatest treasures.
There is Water Works Park, Riverside Park and Frog Island Park among the most popular destinations for residents and visitors.
And then, in the middle of that network, sits the Water Street property, which still bears scars of recently-razed industry and subsequent soil remediation.
In short, it's a lot of dead weeds, rocks, clumps of dirt and a few patches of mostly brown grass.
Mark Maynard, an Ypsilanti blogger, hopes to transform at least part of the property from a "barren wasteland" into a place that offers signs of life, growth and color through an unorthodox approach - seed-bombing.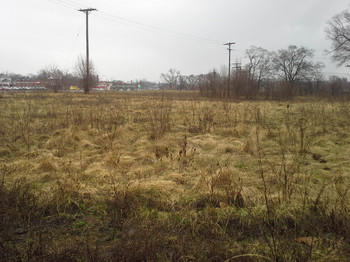 Tom Perkins | For AnnArbor.com
The concept is simple. A mix of seeds is packed into a clump of clay and compost. The fresh "bomb" is left to dry for a day or two. Then "bombing" begins, with 100 or so people throwing the bombs around Water Street. Within a matter of weeks, new life sprouts out of the dirt turf.
"That property is right at the heart of the city and it's a desolate, underutilized space, and has been 10 years," Maynard said. "We've been waiting for development, so here people are kind of empowered to do something themselves by creating something that will grow, and having this plot that reflects resiliency of the city."
Maynard first posted about a sunflower seed bomb in early April and immediately got an enthusiastic response. A Facebook page has since been established and has more than 160 "likes." Maynard says he has the manpower to make the bombing happen with a target date of May 1.
The original vision involved 100 or so people chucking and catapulting sunflower seed bombs all over Water Street, then waiting and watching as a giant sunflower patch sprouted.
But the operation requires a little more attention to some details. The city didn't like the idea of sunflowers because police need to be able to see into the site and sunflowers grow high enough to hide people.
Sunflowers also absorb pollution out of the ground and can become toxic themselves, which would require additional disposal later in the year.
The city suggested smaller plants, so Maynard began contacting a variety of experts and people from nurseries across the state. As of now, Jerusalem artichokes and a bright orange type of milkweed are among two of the choices, and Maynard is trying to find a mix of eight or so flowers and grasses that will not only look nice but have an ecological impact.
For example, milkweed is good option because the dying milkweed population is thought to be behind the drop in the monarch butterfly population.
Another consideration is the plants' germination period. Maynard says he's trying to find a balance of flowers and vegetation that will sprout quickly and throughout the season.
The bombing also can only take place on a roughly 1.5-acre parcel of the 31-acre Water Street site. Maynard said city officials explained there still are areas of toxicity on the grounds, but the spot that will be utilized is a choice one near the Huron River and Michigan Avenue.
But the space limit won't prevent catapults. Maynard said his third-grade daughter's science class built miniature catapults, and he's hoping to incorporate them into the bombing.
After receiving the Park Commission's blessing on April 11 to adopt the 1.5-acre plot, the only remaining task is to have a small group of volunteers to maintain the plot.
Now residents will have something more pleasant to see on the site.
"When you drive up from the east it's the first thing you see is a field where there are signs of life and the community caring about it," Maynard said.