Posted on
Mon, Apr 2, 2012 : 5:54 a.m.
Speed limits to increase along several Ypsilanti area roads
By Tom Perkins
Sections of several Ypsilanti and Ypsilanti Township roads will see their speed limits rise after an evaluation of area roads by the Michigan State Police and Michigan Department of Transportation.
Officials used a variety of factors in determining which speed limits to raise, but stressed that increasing the speed limit by 5 to 10 mph along the selected roads would increase safety.
The roads and speeds include:
Washtenaw Avenue from US-23 to Oakwood Street to 45 mph from 40
Washtenaw Avenue from Oakwood to Summit Street to 40 mph from 35
Washtenaw Avenue from Summit to Hamilton Street to 35 mph from 30
Hamilton from Washtenaw to Ferris Street to 35 mph from 30
Hamilton from Ferris to I-94 to 40 mph from 35
South Huron Street from I-94 to Ferris to 40 mph from 35
Michigan Avenue from the Huron River to Johnson Street to 40 mph from 35
Michigan Avenue from Johnson to Rawsonville Road to 50 mph from 45
Ecorse Road from Michigan to Oaklawn Street to 40 mph from 35
Ecorse from Oaklawn to Ford Boulevard to 45 mph from 35
Lt. Gary Megge of the MSP Traffic Services Section said the idea of raising speeds to increase safety is counterintuitive because people consider faster-moving vehicles to be less safe.
Megge said most motorists will typically drive above a posted speed if that speed limit is too low. Still other motorists will drive the speed limit, so the disparity in motorists' speeds creates an unsafe situation because it increases quick lane changes, tailgating and other dangerous driving behaviors.
"When you have traffic traveling at nearly identical speeds, you improve overall traffic flow and efficiency," he said. "Once we establish a proper speed limit, police officers can focus on the more egregious violator."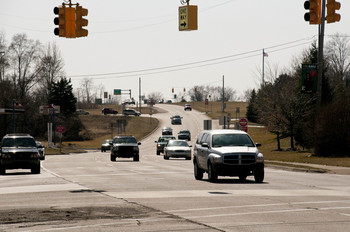 Tom Perkins | For AnnArbor.com
That includes people who drive excessive speeds no matter what the speed limit, Megge said. It also means officers can focus on seatbelt enforcement, impaired driving and intersection violations.
Wendy Ramirez, a traffic engineer at MDOT, also said people will drive at a "comfortable, safe, reasonable speed" despite the speed limit, and it's up to the two agencies to establish that reasonable limit.
"The more uniform the speeds of vehicles in a traffic stream, the less chance there is for conflict and crashes," she said.
Establishing the proper speed limit includes checking a variety of factors, and MDOT and state police try to study the state's trunklines every 10 years.
They examine a road's accident history, the number of lanes, the number of curves and how many hills it has. They also check roadside environment, which includes access points; whether the road is in a residential, commercial or industrial zone; whether there is parking on the side of the road; the road's physical condition; the number of cars and the number of crosswalks, stop signs and other signals.
But the most important factor is referred to as the 85th percentile speed test. Officials monitor traffic along a selected stretch of road and determine what speed 85 percent of the traffic is moving at or below during normal conditions.
"We want to allow the vast majority of drivers to drive legally, safely and comfortably," Megge said. "If the speed limit is too low then we can actually create a speed problem for officers because we set it artificially low."
Megge said people generally will drive at the rate they feel is comfortable and safe despite the posted speed. He said he has done hundreds of speed tests throughout his 15-year career, and changing the speed limit has very little effect on how fast motorists drive.
For example, raising the speed limit by 5 mph doesn't mean motorists who were already driving 5 mph over the original limit will suddenly speed up, Megge explained.
Officials from MDOT and state police met with Ypsilanti Township officials to discuss the proposed changes, though Ypsilanti Mayor Paul Schreiber said he wasn't contacted about the proposed changes.