Posted on
Tue, Aug 21, 2012 : 5:48 p.m.
Pure Michigan video shoot Wednesday in Ann Arbor and Ypsilanti
By Katrease Stafford
Ann Arbor and Ypsilanti will be in the Pure Michigan spotlight Wednesday as the tourism campaign shoots a promotional video at two area landmarks — Michigan Stadium and the Ypsilanti water tower.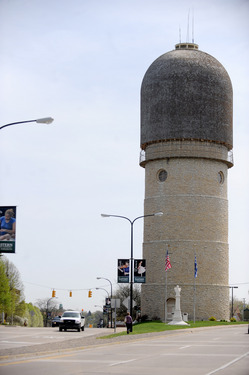 File photo
The video featuring 50 cities around the state of Michigan will have a modified version of the song "Good Time" by Owl City and "Call Me Maybe" singer Carly Rae Jepsen showcasing the various destinations.
Status Creative, the same firm behind a Grand Rapids video, known as the Grand Rapids LipDub that went viral last year with 4.9 million views, will highlight each city, landmark and other "eye catching" things from around the state.
Ann Arbor's filming will take place at Michigan Stadium Wednesday and will feature the University of Michigan Marching Band and cheerleaders. The filming is not open to the public.
The film crew will arrive around 4:20 p.m. to begin setting up for the hour-long shoot. The marching band will be playing a line from the popular song.
In a flash-mob-type setting, the Ypsilanti portion of the video will be filmed at the water tower on Wednesday. Participants should arrive at 2:30 p.m. and filming will take place at 3:20 p.m. and wrap up around 4 p.m.
Participants will be singing the following line during filming, "We don't even have to try, it's always a good time... good time, good time, it's always a good time."
Christine Laughren, manager of marketing and communications for the Ypsilanti Area Convention and Visitors Bureau, said Cross Street near the Water Tower will be closed as needed during the filming.
"The road will be open, we're just closing it intermittently," Laughren said.
All ages are welcome to participate in the Ypsilanti shooting.
The Pure Michigan seven-day road trip started in Caseville Aug. 18 and wraps up in Harbor Springs on Saturday.