Posted on
Wed, Aug 25, 2010 : 5:30 p.m.
Thompson Block supports removed from River Street in Ypsilanti
By Tom Perkins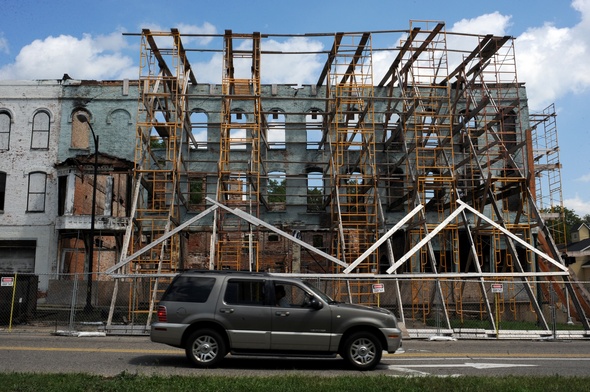 Melanie Maxwell | AnnArbor.com
Supports propping up the west wall of the
Thompson Block
building have been removed from River Street in
Ypsilanti
.
Developer Stewart Beal, whose Historic Equities Fund 1 LLC owns the structure, said his employees started working to remove the supports this morning and completed the project within eight hours.
"It took six months of politicking and eight hours of manpower," Beal said.
Beal and the city remain in court-ordered facilitation over how to proceed with renovating the building.
Shoring still remains in the north lane of Cross Street. Beal received a right-of-way permit allowing a support structure to remain there until April 2011. Supports also still block the sidewalk on River Street.
Beal said additional supports have been added to compensate for those removed. He said his engineers have determined there is adequate support to keep the wall from falling and will next analyze the structure as a whole to ensure nothing changed during work on the west wall.
Ypsilanti Department of Public Services Director Stan Kirton said he will determine whether traffic will be able to make a left from southbound River Street onto eastbound Cross Street. He said he is unsure that there is a safe amount of room because the northbound lane remains closed.