Posted on
Wed, Feb 22, 2012 : 1:10 p.m.
Ypsilanti City Council reduces planned tax levy for water street debt retirement; income tax gets final OK
By Tom Perkins
Ypsilanti's improving financial picture has prompted City Council to approve a new plan to levy a lower tax rate than previously planned for the Water Street debt retirement millage.
Essentially, the city is now offering to cover half of one of the taxes it is asking voters to approve.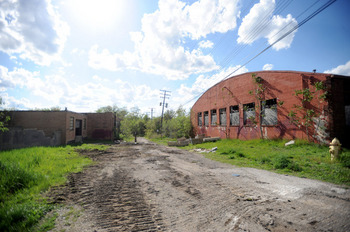 Council approved the new five-year financial plan that includes the reduced millage rate by a vote of 5-1 Tuesday night. Council Member
Brian Robb
voted against lowering the rate. Council also unanimously approved ballot language for the income tax proposal.
The income tax would be set at 1 percent for residents and 0.5 percent for those employed in Ypsilanti, including at Eastern Michigan University.
Because the ballot language for Water Street was already approved, residents will vote on a full millage set at 4.7085 mills. But, under the new plan, council would likely lower that millage to 2.3543 mills. A resident with a home with a market value of $100,000 would then pay $127 in taxes instead of $235 in 2013. By 2017, that millage would grow to 3.5 mills, or $178 annually for the same home.
The adjustment was partly made possible because council was previously expecting an income tax would generate only $2.25 million by 2017, but that figure was changed to $2.7 million. Tuesday night, John Kaczor, a representative from Municipal Analytics, provided council with the new figure during a summary of an income tax study the city commissioned.
The proposed income tax and Water Street debt retirement millage will help Ypsilanti avoid a $6.1 million deficit projected for 2017. If the 4.7 mill debt retirement millage is levied, the city would be left with a projected $102,000 operating surplus in 2017 and an additional $1.3 million on top of its current $9 million in reserves.
Council Member Pete Murdock proposed lowering the Water Street millage rate. He said the package of cuts and new taxes has a better chance of receiving voter approval if the city services half of the debt.
"Because we have a modest surplus and we have put aside $2.6 million to pay for Water Street … we could commit to paying half that out of our fund balance," he said.
The city bonded for the Water Street property, which is located just east of downtown, and began purchasing pieces of it in 2001. Officials expected to quickly see mixed use development that would pay for the debt, but that development never came.
Ypsilanti must pay $30 million on its Water Street bond debt and continue to make payments through 2031. Its annual payments will grow to $1.7 million annually by 2015, and the city currently has $2.6 million set aside to pay down the debt.
Council Member Dan Vogt agreed that the city hould provide some relief to taxpayers if it is expecting to bring in more money than needed.
"I want to eliminate any concerns that we're just trying to grab more money and spend it," he said. "I think people are entitled to know that we're not doing that."
Robb objected to the cut because he said it amounted to a transfer of wealth to the city's corporations. According to his math, the top 30 wealthiest corporations in the city pay 18 percent of property taxes. Among them are Comcast, DTE Energy and David Kircher.
Because it's very difficult to track many of those businesses' profits and charge them income tax, the city would largely only collect from them on the Water Street debt retirement millage, Robb said. The top 30 corporations would have paid $247,000 annually, but with the reduced millage rate they will only pay $124,000, he said.
He also questioned why the city would spend the money it has saved by cutting city services over the last 10 years on debt retirement instead of spending it on the city.
"Now that we don't have the necessity (to save), we can invest in the city instead of investing in corporations," Robb said after the meeting.
Mayor Paul Schreiber said the reduced millage rate still provides relief for taxpayers and expressed his support for it.
"We need to control what we can control and we need to help taxpayers when we can help them, and this is a place where we can help," he said.
The city is projecting it will collect $575,000 the first year the income tax is implemented midway through 2013, and that figure will grow to $2.7 million by 2017 for a total of $9.3 million. If would collect an additional $7.7 million from the Water Street millage over five years if it levies the full 4.7 mills.
If the income tax is approved, officials are expecting to collect more than half of its revenues from corporations and non-residents who work in the city.
The city will soon put up a page on its website that will calculate how much a resident will pay with an income tax.