Posted on
Tue, Jun 18, 2013 : 1:39 p.m.
Ypsilanti Community Schools finalizes new mascot, district logo
By Danielle Arndt
It's official: the Ypsilanti Grizzlies are born.
The
Ypsilanti Community Schools
has revealed its district and mascot logos that will be used to represent the
consolidated
Ypsilanti and Willow Run school system, which launches July 1.
The images were finalized at Monday's unified Board of Education meeting and were formally unveiled in a press release issued after the meeting adjourned.
The district logo already has been appearing frequently on community-wide communications, web and social media sites, T-shirts, uniforms and banners. This logo was designed to embody the heritage of both communities and reflect a bold and confident future, district officials said.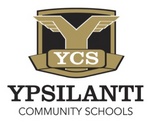 The logo encompasses a large prominent 'Y', reminiscent of the current
Ypsilanti Public Schools
logo, as well as the wings of the current
Willow Run Community Schools
Flyers logo. The wings are a nod to the B-24 bomber airplanes manufactured in the community during World War II.
The mascot, the Ypsi Grizzlies, was crafted as a strong, fierce figure — communicating a force to be reckoned with, district officials said in the news release. Students in the Willow Run and Ypsilanti school districts were given the final vote in the selection of the district's mascot.
Gail Nicklowitz of GN Communications designed the YCS district logo and Gerry Barnett of Lynn Graphics customized the Grizzly image.
Danielle Arndt covers K-12 education for AnnArbor.com. Follow her on Twitter @DanielleArndt or email her at daniellearndt@annarbor.com.