Posted on
Tue, Oct 9, 2012 : 5:57 a.m.
Ypsilanti fire chief announces retirement as department denied $1.3M SAFER grant
By Katrease Stafford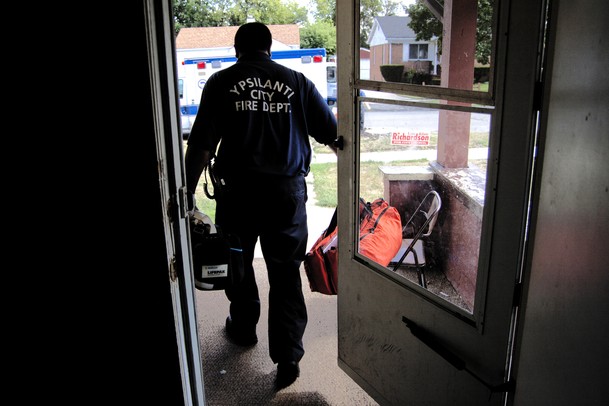 AnnArbor.com file photo
The Ypsilanti Fire Department was denied its request for a $1.3 million grant from the U.S. Department of Homeland Security, and some city officials have expressed concern regarding the possible effects.
Fire Chief Jon Ichesco, who said Monday he plans to retire this year, requested the Staffing for Adequate Fire and Emergency Response grant earlier this year that would have allowed him to retain his staff and possibly hire up to seven more employees.
Ichesco said the request was denied because the department had not actually laid anyone off. The city eliminated firefighter positions through attrition and in June, the Ypsilanti City Council unanimously approved city budgets through fiscal year 2015 that will prevent staff layoffs.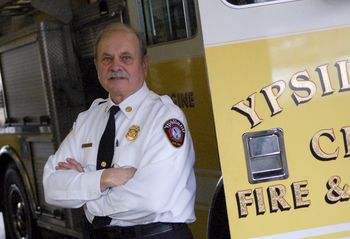 Tom Perkins | For AnnArbor.com
"That dropped us to a lower rating," Ichesco said. "I re-applied for the 2012 round and we're still in the running."
Ichesco said not receiving one of the grants is "not good" for the department or city.
"We've taken one hit after another," he said. "We needed that grant. We had an end game for it. It would have bridged us through for two years and bring people in for lower benefits packages."
Ichesco submitted his letter of intent to retire Sept. 24 and said he plans to retire by Dec. 31.
Mayor Paul Schreiber said City Manager Ralph Lange will likely appoint the next fire chief.
"Chief Ichesco has been in the deferment retirement program so it's not a surprise, but something we have to prepare for," Schreiber said.
Schreiber said at this moment he doesn't know who would replace Ichesco.
"It's really Mr. Lange's call," Schreiber said. "I'm sure he's going to take council's wishes into account. I think he will make the right call and will certainly offer my thoughts."
While Ichesco isn't entirely sure of what direction the department will go when he retires, he is certain city council moving forward will have some tough decisions to make.
"We probably need to move in other directions now and the other directions aren't good," Ichesco said said.
Schreiber said the city will most likely have to restructure and Lange is currently in the process of doing so. At a recent meeting, Lange unveiled he was working on a five-year turnaround plan to move the city out of the red.
"I think we're still going to be looking at some type of reorganziaiton in the city in order to reduce expenses and continue to deliver services," Schreiber said.
When asked whether layoffs will occur, Schreiber said it's too early to tell.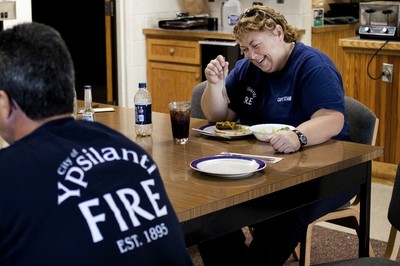 AnnArbor.com file photo
"I can't say at this time," he said. "We've had a number of people retire in the last couple of years. Obviously when that happens, you have to recalibrate and figure out how to restructure. I wouldn't say that's not going to happen but I wouldn't rule it out either."
However, Council Member Brian Robb noted that the budgets approved in June did not factor in the SAFER grant, so any speculation of job loss could be premature.
"Since we passed that budget, three people have announced their intention to retire by Jan. 4," Robb said. "We'll save money if we decide not to replace them. ... We'll have to see how things will shake out."
Schreiber said it can be problematic to rely on grants, which is why the city sought to implement an income tax and Water Street debt millage. Voters rejected the two revenue-generating proposals in May.
"We have to figure out how to deliver services as best as we can and figure out how to have a balanced budget," he said. "The good news is we have something like $7 million in reserves. If you rely on grants, the grant can come and go. Sometimes it just puts off the inevitable. It's not the end of the world that we didn't get the grant."
Council Member Michael Bodary said not receiving the grant is disappointing for the city. Bodary, who did not seek re-election in the August primary, said that going forward, council will need to figure out how to maintain services for residents. Yet, Bodary said he does not foresee any layoffs in the next six months.
"I'm worried for the future, not the immediate but in a year or so," Bodary said. "It just means that the time when we run out of funding has been moved up a little closer. We knew within two years that the city would be out of fund balance. We had a nest egg that we've been maintaining but it started being used for other issues. That just can't keep up and we don't have any other funding sources."
Ypsilanti must pay $30 million on its Water Street bond debt and continue to make payments through 2031. Its annual payments will grow to $1.7 million annually by 2015, and the city currently has $2.6 million set aside to pay down the debt.
Early projections show the city is facing a possible $4 million deficit for fiscal year 2016 and $4.6 million in 2017.
Bodary said he believes the city will do everything it can to preserve the fire department.
"A lot of people are trying very hard to find solutions," he said. "We're not out of time yet but we've really got to dig in to find enough cost cutting solutions to maintain the coverage. I can't think of a single thing a city accomplishes or strives for more than the protection of its citizens."
Katrease Stafford covers Ypsilanti for AnnArbor.com.Reach her at katreasestafford@annarbor.com or 734-623-2548 and follow her on twitter.