Posted on
Tue, Jan 24, 2012 : 8 a.m.
Ypsilanti school board cuts teachers, courses; more layoffs expected soon
By Danny Shaw
Ypsilanti Public Schools is 4.5 staff positions lighter and three courses thinner after a decision made at Monday's Board of Education meeting.
In an effort to balance the Ypsilanti school district's budget after losing 118 students last fall, the school board Monday night approved cutting teaching positions as well as three programs from Ypsilanti High School, and administrators warned more layoffs are coming.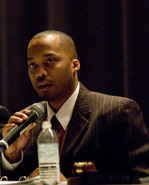 Tom Perkins | For AnnArbor.com
"Unfortunately we have reached the point where we have to make some difficult decisions," said
Dedrick Martin
, YPS superintendent. "We will see some additional layoffs in the very near future as we look into the special education department."
Sharon Irvine, executive director of human resources, said some of the special education cuts will be positions that are grant-based with funds are set to dry out. Exact positions and time frame of the special education layoffs had yet to be determined.
Irvine told the Board the overall savings from the current cuts will equal about $350,000 and Martin said the special education cuts will save the district more than $200,000.
The board voted 5-1 to pass the layoff, with Trustee Sarah Devaney absent and Trustee Andy Fanta dissenting. Fanta said he doesn't disagree with the decision, but would have like to have seen a more detailed breakdown of the cuts before voting for them.
Ypsilanti Middle School lost a math teacher and a language arts teacher, and Ypsilanti High School lost two Regional Career Technical Center teachers, along with three RCTC courses, Irvine said.
High school students and staff were notified Thursday of the cuts and the changes went into effect Monday morning. Students in the affected courses — graphic arts, child care and health occupations — were transferred into different programs.
Martin said last week the drop in enrollment and need for budget cuts was known in October, but the exact programs and positions was decided within the last few weeks.
"It would have been disruptive to the kids' education at the sixth week of the school year," Martin said Friday. "We are taking every effort to minimize the impact on students as best as possible."
He said it's not uncommon for school districts to adjust staff sizes to correspond with changes in enrollment.
Makayla Watson was one of five Ypsilanti High School seniors who attended the meeting to oppose the RCTC cuts. Watson said the RCTC programs are competitive and require extra effort to gain admission.
"If they had let us know sooner, I wouldn't have gone into the program," she said. "All that work for what? They cut our program. If they cared, they should have told us ahead of time."
Senior Amber Williams said she was in the RCTC's child care program and is now in the culinary arts program.
"I'm going to major in child care in college and I feel like this is cutting into my future," Williams said. "I just think they don't value what the students feel."
Contact reporter Danny Shaw at 734-623-2544 or dannyshaw@annarbor.com.