Posted on
Wed, Jan 11, 2012 : 2:59 p.m.
Ypsilanti plans May vote on income tax and Water Street debt retirement millage
By Tom Perkins
The City of Ypsilanti is close to approving a plan for eliminating its projected deficit and maintaining the city's solvency. It will include asking voters to approve an income tax and Water Street debt retirement millage along with significant budget reductions.
In a 4-3 vote Tuesday night, council decided both issues would be on the ballot in May.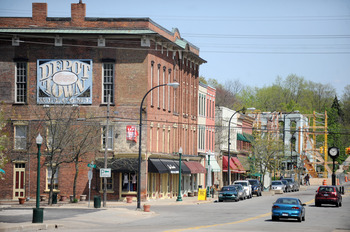 Angele Cesare | AnnArbor.com
Council Members
Ricky Jefferson
and
Dan Vogt
and Mayor
Paul Schreiber
voted against the resolution to put the issues on the May ballot. They made a case for trying during the November elections instead.
"I am very strongly in favor of November," Schreiber said. "It comes down to getting information out and getting a clear choice from council on what the budget looks like with the revenue and what it looks like without the revenue."
Council must adopt a budget in June and Council Member Brian Robb argued that the budgeting process would be much more difficult if the city doesn't how much revenue it has coming in.
Council is working on a five-year financial plan that will eliminate a $10.69 million budget shortfall projected for 2017. The two new revenue streams are part of that plan, and council is also planning to make significant spending reductions as part of a package it will offer residents.
Council is now tasked with convincing voters that plan is necessary to avert a state takeover and that not voting for the proposals would leave the city unable to provide basic services.
Vogt said he found in his interactions with residents that there is a perception that council would be wasting money by holding a special election in May and trying to rush through the proposals.
"In light of what the public will perceive, I think the November date makes sense," Vogt said.
Schreiber said the vote and campaigning for it is the most important thing council will do this year. He said having the vote in November gives the city more time to campaign. He also pointed out that the results from an income tax study won't even be in by May.
"I just don't think we're going to be prepared," Schreiber said, adding he hopes council will reconsider the vote.
He said more people will be at the polls in November because it is a presidential election year and that will provide a better representation of city residents' wishes.
But the main issue is having enough time for staff and council to coordinate information.
"I think people are going to be looking at what an income tax and Water Street debt retirement millage are going to cost them, and they are going to weigh that against the cost of reducing city services, and that cost of reducing city services is something that is very hard to quantify," he said. "I don't think we have enough of the information that voters need. I don't think we can do it in that that short of a time."
Council Member Pete Murdock said he thought council was underestimating its ability to run a successful campaign. He also said city residents will be busy with other campaigns in November and that makes it difficult to get across how people should vote on each issue.
"How do we tell people to vote yes on this and no on that?" he asked. "I think we can put the campaign together by May."
Murdock, along with Council Member Mike Bodary and Mayor Pro Tem Lois Richardson, is up for re-election in November as well, though that race will likely be decided in the August primary election.
Bodary also said he feared the issue would get lost on the ballot in the November election.
"Once you start adding proposal after proposal you get voters who are sitting there going 'No, no, no,' and it becomes too much of a habit to check of the 'no' box,'" he said.
Richardson suggested the possibility of having the vote during the August primary election, but the idea didn't find any support.
At its February 7 meeting, council will hold public hearings on the Water Street debt retirement millage, income tax proposal and five year financial plan. It will also have the first reading of the personal income tax ordinance.
At its February 14 meeting, council will adopt the five year financial plan along with wording for the ballot issues. The election will be held on May 8.