Posted on
Mon, Feb 6, 2012 : 5:55 a.m.
Ypsilanti Township begins identifying roads to repair over next two construction seasons
By Tom Perkins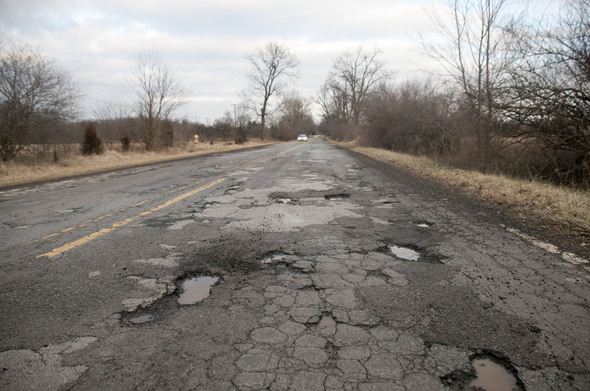 Tom Perkins | For AnnArbor.com
Ypsilanti Township and the Washtenaw County Road Commission are in the process of determining which township roads will see repairs over the next two construction seasons and how much repair will be required.
The township expects to bond for $3 million to $5 million to repair at least 26 miles of roads requiring the most work, though more major roads will likely be added to the list.
The township's current 10-year road bond expires this year.
Roads covered under the bond issue have been identified as receiving the lowest Pavement Surface Evaluation and Rating score, which is the scale the Road Commission uses to determine a road's condition. Those roads will require either a total reconstruction, a mill-overlay or an overlay.
In addition to the major work, the township and Road Commission have identified an additional 107 miles of roads needing minor seal-coating and crack sealing, which is largely limited to neighborhood and subdivision streets.
Supervisor Brenda Stumbo said the township regularly makes that type of maintenance roadwork a priority and its roads are traditionally among the best in the area because of the policy. She said that also saves money in the long run because it improves the lifespan of a road.
Officials expect to spend an additional $400,000 for seal-coat and crack seal work.
"The quicker you repair roads in need, the more cost effective it is for long-term maintenance and care of our road system," Township Clerk Karen Lovejoy-Roe said.
Township officials are meeting with Road Commission officials later this month to decide which other roads should be on the list. There could be additional overlay work on Whittaker Road, Stoney Creek, Martz Road, Bunton Road and other large roads.
Those currently slated for a total reconstruction include:
Small segments of the Ecorse Service Drive near Hudson Street
Merritt Road — Munger Road to Stoney Creek Road
New Meadow Drive — Willowbridge to Big Pine Drive
Princeton Place — New Meadow Drive to Willowbridge
Sunset Trail — New Meadow Drive to Princeton Place
Willowbridge — Textile Road to Big Pine Drive
Scott Court north of Michael Drive
Parkwood Ave at Wiard Court
Highland Court at Hazel Street
Mott Road at Ridge Road
Additional overlays are planned for 23 miles of roads that vary from main roads to neighborhood streets.
Several other projects that won't require bonding or township funds are planned. That includes a joint venture among the Ypsilanti Community Utilities Authority, Pittsfield Township and Ypsilanti Township on Golfside Road between Packard and Clark roads. That part of the road will see mill and resurfacing as well as sanitary sewer work. The $1.1 million project is expected to begin in May and continue through July.
Plans are also in place for a mill-overlay on Ford Boulevard from M-17 to US-12 and the restriping of the road from four lanes to three lanes. The $200,000 project is expected to take place from August to October.