Posted on
Tue, Mar 27, 2012 : 9:56 a.m.
Ypsilanti Township officials condemn house extensively damaged by dog feces and urine
By Tom Perkins
Ypsilanti Township officials have condemned a home where they discovered the interior was covered in dog feces and saturated in dog urine.
Officials also found a 20-year old man living at the address with dog feces on his body and no utility connections in the house.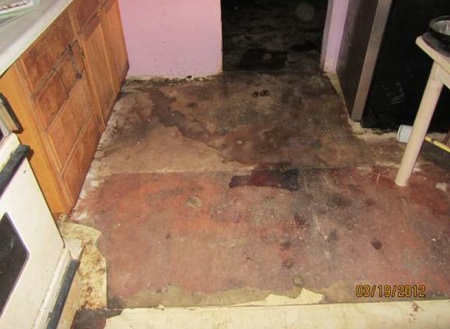 From Ypsilanti Township
At their meeting on Monday, the Board of Trustees authorized staff to take legal action if the home's owner doesn't address a long list of issues at the property.
Building inspectors were alerted to the home at 1200 Red Leaf Lane by neighbors who complained about the stench.
Inspectors previously condemned the house twice for similar problems. But a woman who lived at the house caused the issues in the previous cases.
This time, building inspectors found she had moved out and her 20-year-old son was living at the address. Ron Fulton, director of the building department, said inspectors knocked on the door March 19, and the man who answered had dog feces on his body.
A 76-page notice of violation presented to the homeowner and shown to Board of Trustees at the meeting included photographs of the home that gave a visual account of the conditions, described as horrendous. It included pictures of handprints made with feces on the walls.
The man had five dogs living at the address, Fulton said, and the saturation of urine in the floor and drywall has caused extensive damage.
Fulton said the township is asking the mother who owns the home to fix or demolish it, but he said it is unlikely it can be brought up to code and probably will have to be demolished.
"It is so saturated with dog urine that the floors are warped because of excessive moisture," Fulton said. "The subfloor and joists have deteriorated to such a point that the house is probably not salvageable."
He said the owner wanted to give the house to Habitat For Humanity, but Habitat officials said they wouldn't take it because "free is not cheap enough."
Fulton said didn't know the status of the man who was living there, but the house is no longer occupied.
The Humane Society was brought in to inspect the home and subsequently confiscated the five dogs.
If the homeowner is unable to demolish the house, the township could pay for demolition and put a lien on the property.
County records show the home is owned by Phyllis Meggison. Assessments estimate the market value at $60,000.
Tom Perkins is a freelance reporter for AnnArbor.com. For more Ypsilanti and Ypsilanti Township stories, visit our Ypsilanti page.