Posted on
Tue, Feb 21, 2012 : 5:57 a.m.
Ypsilanti Township to seek court help in addressing conditions at three partially abandoned mobile home parks
By Tom Perkins
Conditions at three mobile home parks have pushed the properties to the top of the seemingly endless list of blighted structures Ypsilanti Township's Office of Community Standards is addressing.
A judge recently ordered 14 abandoned mobile homes removed from one park while township staff brought two more parks with similarly bleak and dangerous conditions to the attention of the Township Board of Trustees at the Feb. 13 meeting.
Tom Perkins | For AnnArbor.com
Wasthenaw County Circuit Judge
Archie Brown
ordered
Greenbriar Mobile Home Park
owner
Gerald Burton
to remove the abandoned trailers from the park, located at
2500 Holmes Road
between Holmes and East Michigan Avenue, by Feb. 25.
Many of the mobile homes there have been stripped of scrap metal and are providing shelter for vagrants. Doors and windows are broken on units throughout the park, and some face issues ranging from collapsing porches to leaking roofs.
Township attorney Doug Winters also reported to the Board of Trustees that township staff will be addressing similar, if not worse, conditions at two nearby mobile home parks.
The properties are both owned by WOC Realty LLC and are in tax foreclosure. One is at 2590 E. Michigan Ave. and the other is at 117 S. Harris Road, just south of the Ford Boulevard bridge over East Michigan Avenue.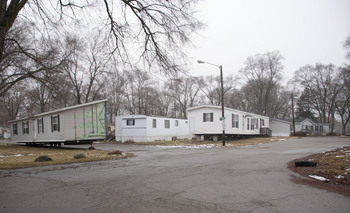 Tom Perkins | For AnnArbor.com
No paperwork has been filed with the courts yet, but the township is drafting notice of violations outlining the issues at the two parks which will eventually be served to the owner.
In an affadavit, Building Director Ron Fulton noted that some of the mobile homes were structurally unsafe and unfit for occupancy. Officials are having trouble determining which mobile homes there are in inhabited and which aren't because many are in such a degree of disrepair. As with Greenbriar, some units are being stripped of scrap metal.
One unit in particular on the Michigan Avenue property is packed with garbage from floor to ceiling throughout much of the trailer, and garbage was spilling out the front door when building inspectors were at the property.
On Feb. 15, officials received a report that the drinking water at the Michigan Avenue park was contaminated, though officials hadn't yet determined what it was contaminated with.
The township faced similar challenges in the now-razed Ypsilanti Mobile Village, which is also in the same area along the East Michigan Avenue corridor.
Courtesy of Ypsilanti Township
The
Michigan Department of Energy, Labor and Economic Growth
is supposed to oversee licensing of the parks, and Winters expressed frustration with the state for being lax on oversight.
Burton, Greenbriar's owner, did have his license to operate two other parks stripped by the state. He was also exposed by Fox 2 for failing to make water payments at a building he owned in Detroit. The water was to be shut off because he owed $159,000, and he was suspected of trying to rig the water meter.
Still, he continues to operate Greenbriar.
"What you have here is an absolute failure on the part of the State of Michigan to regulate these mobile home parks. It has been a total abdication at the state level, and it has fallen upon the township to ensure that these mobile home units are habitable, and they're not," Winters said.
"The (residents) who actually live there are in imminent danger due to horrible conditions … and they are exposed to a number of health hazards by living in, for lack of a better word, a fire trap."
The township must ensure residents are safe, and officials aren't specifically targeting mobile home parks, Winters said.
"You can't sit there and ignore these conditions and say 'You gotta live somewhere.' There can't be a deplorable situation that threatens the health, safety and welfare of people who are exposed to what's going on at these mobile home parks," he said.