Posted on
Wed, May 12, 2010 : 4 p.m.
Pete Murdock challenges Paul Schreiber for mayor in Ypsilanti; council races shape up
By Tom Perkins
Incumbent Paul Schreiber faces a challenge from Council Member Pete Murdock (Ward 3) in the race for Ypsilanti mayor, while four candidates are vying for the city's Ward 1 council seat in the wake of Mayor Pro-Tem Trudy Swanson-Winston's decision not to run for re-election. Two-way races are shaping up in wards 2 and 3.
Unless independent candidates step forward before the November election, the mayoral and all council races in Ypsilanti will be decided in the Aug. 3 primary. All candidates who filed before the deadline for partisan races Tuesday are Democrats.
Mayoral race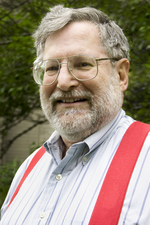 Murdock has a long history in Ypsilanti politics, including several terms as a council member and a brief stint as mayor in the early 1980's. He has also served on numerous boards and committees, and cites his experience and "active" style of leadership as two assets.
Among his main concerns are how the city contends with the sour economy and economic forces beyond the city's control, such as a decrease in state shared revenue and the impact of Proposal A, which limited how quickly property taxes could increase.
"We have to have flexibility and must be able to adapt to what happens," he said.
To help deal with those issues, Murdock suggests continuing to secure grants, forming partnerships with neighboring municipalities and marketing the community for economic development. He praised the dedicated core of volunteers and high level of community involvement from Ypsilanti residents, and said they are key to keeping Ypsilanti moving in the right direction during the downswing.
"There needs to be a continuation of that," he said. "We need to create a climate to encourage those who are active in the city."
On the issue of Water Street, Murdock said the city needs to "cast a wider net" in attracting serious developers and not push forward a restrictive vision of how the project should look. He said his position remains that if a developer has an idea the city likes, then the proposal should receive consideration.
"I don't see the need to run out there and have zoning that would exclude some other possibilities," he said. "I've talked to developers who have said the zoning isn't the issue; the speed and ease of which it gets through the process - that's what important."
The city purchased the Water Street property several years ago in hopes of turning it into a mixed use development to help revitalize the city, but the project has stagnated for years.
Murdock recently voted against a proposed agreement put forth by developer Stewart Beal and City Manager Ed Koryzno to begin work on the Thompson Block building, which was badly damaged in a fire last year. Murdock said it provided "no realistic timeline or plan" to remove shoring from the city's streets and begin adequate renovations.
Murdock previously said the city and Beal would have ended up in court at some point no matter how he voted, and by opting for court now, the city is saving time. He said no plan presented thus far would bring the building in compliance with the vacant building ordinance.
"We need some progress and we need a schedule," Murdock said. "Right now, he is just blocking the sidewalk and streets."
Murdock also said he was concerned over the high number of foreclosures and how the city deals with derelict buildings and property. He called for greater enforcement of the city's vacant building ordinance.
"We need to stay on top of that because there's nothing as damaging to neighborhoods than boarded up, blighted buildings," he said.
Mayor Paul Schreiber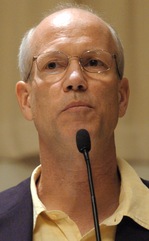 Schreiber has served one term in the mayor's office, during which time he believes a new Ypsilanti brand has emerged.
"We are really turning the corner from being an industrial city in the 20th century into a 21st century city of education, arts and entertainment," he said.
He pointed to downtown's revival, a stronger relationship with Eastern Michigan University and the combining of two downtown development authorities as positive developments contributing to the city's success and image. He further credited the "tremendous energy and commitment" of Ypsilanti's residents.
Schreiber said the last four years taught him being mayor isn't just about casting a vote, but developing a vision for the city and articulating that vision to the council and community. He said he sees Ypsilanti as a small, urban center that is attractive to families and small businesses.
He says the city has all the tools and resources families and businesses need, and he believes the economic activity in downtown, such as the recent purchasing of the Mellencamp Building on Michigan Avenue, is evidence that others feel the same way.
"I think I'm getting the word out that Ypsilanti is a great place to be," he said. "I hear people talking about the city all the time and I want to continue to do that."
In fostering an environment for growth, Schreiber said he will continue to represent Ypsilanti regionally in organizations like the Washtenaw Urban County Board and seek more state and federal grant dollars.
Schreiber said he would like to see some of the development downtown spark the Water Street Project. He said the project was first intended to serve as a catalyst for downtown, but circumstances have led the opposite to occur. He believes that there is enough life and economic activity in downtown - even in a bad economy - that it will move eastward.
In going forward with Water Street, Schreiber remains a proponent of following the Planning Commission's zoning recommendations. He said some council members ran for office two years ago with the plan to look for more offers, but that has only yielded an offer for a Burger King, which the council rejected.
"I think we looked at an offer and we turned it down, so it's time we give the developers and community the vision that we have," Schreiber said.
He called the demolition of the derelict buildings on the property a "great first step."
"Anything you can do to get the property ready is going to be a great sales point," he said.
Schreiber voted to approve the proposed agreement between Beal and Koryzno, and has maintained that court is only dragging out the process of removing the shoring from the street and renovating the Thompson Block building.
"We had a very predictable outcome if we would have approved the agreement Mr. Beal presented," he said. "I think it was very unfortunate council decided not to approve it - you should avoid court whenever you can."
Schreiber added that the primary concern is residents' safety around the building, and how to quickly address that concern.
Ward 1 Juanita House, 49, is a social worker for Holy Cross Children Services. She has served on the Washtenaw Community Action Board and Heritage Park Neighborhood Association. She is concerned with seeing fresh blood on City Council, addressing the state of city services and retaining the talent that graduates from Ypsilanti's universities but moves to other cities.
Ricky Jefferson, 51, is a retired employee from General Motors' Willow Run Plant. He says the main issues facing the city is how to proceed with Water Street and generating revenue to maintain basic city services, especially public safety.
Steve Pierce, 47, is part owner of Wireless Ypsi along with council member Biran Robb. He made failed bid for the mayor's office in 2006.
Tyrone Bridges, 40, works as a computer repair technician. He has volunteered on the city's Human Relation's Commission and is concerned with being a proactive advocate for his constituents. He said crime and blight are the major issues in the community, and a representative from Ward 1 should be at the forefront of dealing with those issues.
Ward 2 Council Member Bill Nickels has also chosen not to run for re-election in Ward 2, setting up a battle between Claudia Pettit and Daniel Vogt.
Pettit, 39, works as a counselor for the State of Michigan Rehabilitation Services, where she helps people with disabilities find employment. Pettit received a bachelor's degree in political science and has worked on campaigns. She is part of the Normal Park Neighborhood Association, Ypsilanti CoPac and on the Heritage Foundation board. She says she sees three major issues - the Thompson Block building, Water Street and the city's revenue stream.
Vogt, 55, is a lawyer for the United Auto Workers' legal service. His political experience includes volunteer campaign work in college. But he said his 30 years with the UAW has provided him significant experience with the type of complex budget problems that plague the region today. He said Ypsilanti is on dangerous ground financially, and is concerned some on council and running for council aren't aware of how serious the issue really is.
Ward 3 Incumbent Brian Robb, faces Ted Windish for the Ward 3 seat.
Robb co-owns Wireless Ypsi with Pierce and is employed as an engineer for Ford. He is running for his second term and says it will be up to council in the coming years to be creative in addressing budget issues and continuing to provide effective city services while collecting less taxes.
Windish, 50, is an entrepreneur and owner of a small nursery and landscaping company. He was a commissioner for the Ann Arbor Farmers Market from 2004-2007. He said his two main concerns are the city's abandoned buildings and the "triad of evil," consisting of drugs, prostitution and robbery. He said if the city focuses on controlling drugs and prostitution, robberies will be reduced.