Posted on
Tue, Aug 31, 2010 : 6:02 a.m.
Zingerman's Deli expansion may have tough hurdle to clear with Ann Arbor Historic District Commission
By Ryan J. Stanton
Does the expansion of Zingerman's Deli in downtown Ann Arbor offer a substantial benefit to the community?
That's the question the city's Historic District Commission must answer next week when it meets to hear a proposal from the deli's owners.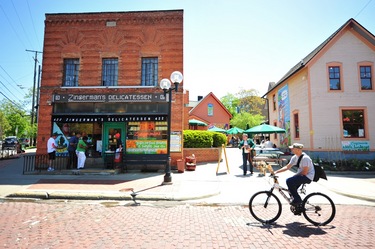 Ryan J. Stanton | AnnArbor.com
The answer might not be an easy one.
The seven-member body is being asked to approve a special exception that goes against the U.S. Secretary of the Interior's standards for historic properties. And it would allow the demolition of a house that the HDC two years ago determined was historic.
"It's sort of a weird position for the commission to be in," said HDC Vice Chairman Patrick McCauley. "It's going to be an interesting debate. I suspect there will be a lot of public commentary — probably a lot in favor and some opposed."
The project — a 10,340-square-foot addition to the deli campus at 422 Detroit St. in Kerrytown — already cruised through the approval process with the Ann Arbor Planning Commission and Ann Arbor City Council. Now the HDC remains the final hurdle for Zingerman's to clear — and it might be the hardest of them all.
The HDC denied Zingerman's previous plans to expand in June 2008. The deli's owners have spent considerable time revising their plans ever since.
The makeup of the HDC also has changed in the last two years. But exactly how those variables will play out when the HDC meets at 7 p.m. next Thursday remains to be seen.
"Zingerman's is a major employer and a major anchor of Kerrytown, so I guess that's where the major debate is going to happen," said McCauley, who was not on the HDC for the last vote. "I think it has to be in the interest of the majority of the community."
Two years ago, Zingerman's asked to raze two houses on its property to make way for a potentially 22,000-square-foot addition. Now it is asking to demolish only one house to make way for a substantially smaller addition.
The deli's owners still are asking to demolish the same white house at 322 E. Kingsley St. that the HDC decided in a 4-3 vote two years ago was historic. Only two of the three commissioners who favored demolishing the structure back then remain on the HDC, while two of the four who opposed it also have been replaced.
The historic home in question was badly damaged in a fire in 2006. Zingerman's owners argue that a special exception should be made because of that.
City Planner Jill Thacher said in May that Zingerman's must prove its project will be of "substantial benefit to the community." But how that benefit is defined and whether it is substantial enough to warrant removing a historic structure from the Old Fourth Ward Historic District remains to be determined by the HDC.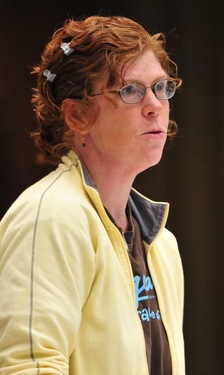 Ryan J. Stanton | AnnArbor.com
Commissioner Diane Giannola, one of the three HDC members who favored demolishing the structure on Kingsley two years ago, said a lot will be discussed and debated at next week's meeting, including whether things like the economic impact of Zingerman's expansion constitute a public benefit.
"Some say yes, some say no," she said.
Zingerman's owners have been to three working sessions with the HDC during the course of the project and say they're confident they have a worthy case.
Grace Singleton, one of the deli's managing partners, said the expansion will give Zingerman's enough space to allow improved service to customers and staff. She also said it will increase revenue so the business can continue to be a positive economic influence in the community, and they'll hire about 65 more employees. The new digs also will be energy efficient, she said.
"We got pretty positive response back from the staff review," she said. "It's taken a lot of time to get to this point, but I feel we have a really great proposal that takes into account all the different people involved, and it's a real good middle ground to end on."
If approved by the HDC next week, Zingerman's would move forward on demolishing the structure on Kingsley this fall, Singleton said. The next step would be to take an orange house on the property and shift its location to make room for construction staging. The goal is to have the expansion completed by spring or summer of 2012.
McCauley, who considers Zingerman's latest expansion plan "a big step in the right direction," said he won't be able to attend the meeting, so it will take yes votes from four of the six remaining commissioners for the project to pass.
"The HDC obviously wants to see Zingerman's and Kerrytown succeed," McCauley said. "We tried to work out something with them and I think this is a much better plan than last time — what was brought before the commission before."
Singleton said she's expecting a good discussion.
"If it takes until midnight, that's OK," she said.
Ryan J. Stanton covers government and politics for AnnArbor.com. Reach him at ryanstanton@annarbor.com or 734-623-2529.