Posted on
Tue, Nov 3, 2009 : 6 a.m.
Pipa virtuoso Yang Wei and Chinese art talks on tap this week
By Frances Kai-Hwa Wang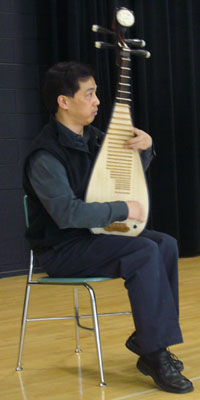 Pipa virtuoso Yang Wei visits King Elementary in January 2007
Two years ago, when
pipa
virtuoso
Yang Wei
came to Ann Arbor for a week as a visiting artist in residence, he
visited Dr. Martin Luther King Jr. Elementary School
for an all-school assembly. He talked about the history and evolution of the
pipa
, and how it is related to both the (European) lute and the (Middle Eastern)
oud
. He also told funny stories about cultural misunderstandings and how hard English was for him to learn when he first came to America. The kids — many of whom have immigrant parents for whom English is a second language — laughed and laughed when he described how confused he felt when people would ask him, "What's up?" Not understanding the question, he would look up and answer,"Clouds? Sky?"
And then he played.
From Oh Susanna ("with a pipa on my knee") to classical Chinese songs filled with the sounds of canons firing, the clash of swords, galloping hooves, and the screams of horses, the kids got it. They heard it all. One man sitting alone on a bare stage with a simple musical instrument held the attention of 450 elementary students, from kindergarten through fifth grade.
This is going to be a big week of Chinese arts and culture.
On Wednesday, Nov. 4, 2009, the University of Michigan Center for Chinese Studies, in conjunction with the U-M College of Literature, Science and the Arts Theme Year on Museums and the U-M Museum of Art, will host a reception for and a lecture by Dr. Melissa Chiu, museum director and vice president of global art programs for the Asia Society Museum, New York, titled, "Contemporary Art in China: Where Has It Come From and Where Is It heading?" The reception will begin at 6:30, and the lecture will begin at 7:30 p.m. at the University of Michigan Museum of Art (UMMA), 525 South State St.
Then, to celebrate the opening of the Confucius Institute at the University of Michigan, the latest of more than 300 Confucius Institutes worldwide dedicated to teaching Chinese language and culture, Professor Martin Powers and Sally Michelson Davidson, Professor of Chinese Arts and Cultures at the University of Michigan, will be giving the inaugural lecture, "De-familiarizing the Exotic: Appreciating the Arts of China in the 21st Century," at the University of Michigan Museum of Art Thursday, Nov. 5 at 1:30pm.
Finally, the very charming and engaging pipa virtuoso, Yang Wei, (who is also part of Yo-Yo Ma's Silk Road Project) and the Chinese Ensemble of the Art Troupe of Renmin University of China will be performing a concert of traditional and contemporary Chinese music at Rackham Auditorium, 915 E. Washington St., Thursday, Nov. 5, at 7:30pm. Admission is free.
Frances Kai-Hwa Wang is a second-generation Chinese American from California who now divides her time between Ann Arbor and the Big Island of Hawaii. She is editor of IMDiversity.com Asian American Village, lead multicultural contributor for AnnArbor.com, and a contributor for New America Media's Ethnoblog. She is a popular speaker on Asian Pacific American and multicultural issues. Check out her Web site at www.franceskaihwawang.com, her blog at www.franceskaihwawang.blogspot.com, and she can be reached at fkwang888@gmail.com.