Posted on
Sun, Jun 5, 2011 : 6:12 a.m.
Being surprised by the lunar calendar, dragon boat festival, and the sudden maturity of our children
By Frances Kai-Hwa Wang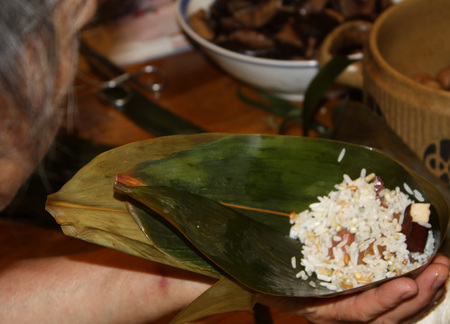 Frances Kai-Hwa Wang | Contributor
The tricky thing about using a lunar calendar is that if you are not paying attention — or if you have not properly aligned your lunar calendar with your regular planner — holidays and festivals can sneak up on you unawares.
The big holidays are easy. Lunar New Year's is usually in January or February. The Mid-Autumn Moon festival is in, well, autumn.
However, the secondary holidays, like duanwujie (dragon boat festival) which is sometime in June or July, I sometimes (okay, often) forget until suddenly I turn the corner and am unexpectedly awash in zongzi, those delicious pyramids of sticky rice bundled into ti leaves and tied with string, an unexpected seasonal delight. For a few miraculous days, zongzi appear on our doorstep, arrive as gifts, show up scrawled onto the Chinese menu, are sold as fundraisers.
The children insist on savoring one delicious treasure at every meal, while recalling all the nice grandmothers who have taught us how to make them (we have yet to try on our own).
Then as quickly as they appeared, they are gone.
This happens with other festivals and other calendars, too. Suddenly there are paczki at every grocery store, every bakery, every board and committee meeting. Oh, it must be Fat Tuesday. Easter is coming. Or suddenly downtown is filled with teenagers in beautiful gowns and suits. Oh, it must be prom.
Yesterday I turned down Fourth Avenue, trying to find a parking space, when I was blocked by blue and white tents in the streets, and I was enveloped in the smell of barbecue. Ah, the African American Festival. Juneteenth time!
It also happens with other people's children, who seem to grow up so much faster than one's own.
Every year at Chinese School graduation, the parents prepare a slide show of the graduating seniors, from childhood to the young men and women they have become. They are so cute!
Such fat babies, beautiful princesses in ruffly dresses and sparkly tiaras, cute little Halloween costumes, making funny faces with brothers and sisters. The whole school oohs and ahhhs as everyone tries to make out the chubby cheeks.
Then suddenly they have transformed into young adults, dressed up in their senior portraits, captain of the tennis team, first chair in orchestra, heading off to colleges near and far. How did I miss the middle?
"I remember when you were this tall and used to run up and down the hallways and hang upside down on the railings …"
My children are especially sentimental this year as the last of Little Brother's "big brothers" are graduating. (He gave all his favorite graduates what every college student needs — emergency packs of ramen.)

Courtesy of Huron High School student council
Next year it will be M's cohort, and it will be us putting together the photo slide show and sending ours off into the world.
I am not ready.
So instead, I take another look as my younger children and my friends' children begin to make their way towards maturity and independence.
Have you seen the navy blue "Ganbare Nihon" T-shirts that are all over town? My daughter's friend, Andy, who we have known since he was 2 years old, created those T-shirts to raise money to help the people in Japan after the tsunami. Andy designed the shirts, had them printed at Ascott, and enlisted all his friends to help sell them.
It quickly spread from just one person to all his friends, then to Huron High School, Pioneer High School, Community High School, Skyline High School, Chinese School, Japanese School, and beyond.
I still remember when he was hanging upside down on the railings.
Frances Kai-Hwa Wang is a second-generation Chinese American from California who now divides her time between Ann Arbor and the Big Island of Hawaii. She is an editor of IMDiversity.com Asian American Village, lead multicultural contributor for AnnArbor.com, and a contributor for New America Media's Ethnoblog. She is on the Advisory Board of American Citizens for Justice. She team-teaches "Asian Pacific American History and the Law" at University of Michigan and University of Michigan Dearborn. She is a popular speaker on Asian Pacific American and multicultural issues. Check out her website at franceskaihwawang.com, her blog at franceskaihwawang.blogspot.com, and she can be reached at fkwang888@gmail.com.