Posted on
Fri, Feb 17, 2012 : 7:51 p.m.
Character: What's No. 1 American character strength?
By Wayne Baker
Editor's note: This post is part of a series by Dr. Baker on Our Values about core American values. This week, Dr. Baker is relying on a global survey to discuss America's character strengths, along with its weaknesses.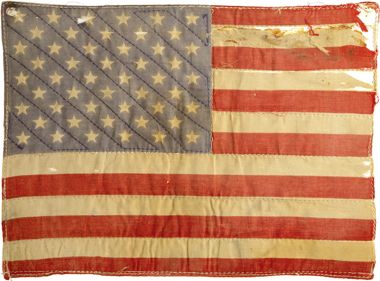 Photo from Wikimedia Commons.
Quick: What's the top American character strength?
What is a character strength?
It's a type of virtue that a person — or a culture — can hold to a greater or lesser degree. Defining and strengthening our national character has been a central theme in American life and culture since the founding of our nation centuries ago.
Right now, the goal of strengthening American character is a major theme on the campaign trail. Politicians cite the decline of American character and values as the culprits behind many social and economic problems. But how true is it?
We know from research I've reported before on ourValues.org that Americans share a set of core American values. These values haven't been lost. But, how about American character strengths?
We know the answer to these questions from a global survey of character strengths reported by psychologists Nansoon Park, Chris Peterson and Martin Seligman. These researchers developed a survey of 24 strengths that represent six universal virtues: wisdom and knowledge, courage, humanity, justice, temperance and transcendence. More than 100,000 people from 54 nations took the survey, including Americans in all 50 states.
The top character strength in America is: kindness. It's one of the strengths associated with the virtue of humanity — interpersonal strengths that involve helping, taking core of, and befriending others.
Are you surprised? What surprised me was that kindness was not the top strength anywhere else. Among the 54 nations included in the survey, it was only in America that kindness took the top spot.
The importance of kindness is consistent with the core values of respect and concern for others — values we've discussed before. This week we'll discuss character strengths that Americans hold in abundance — and some that rank among our weakest. Today, consider kindness, and tell us what you think …
Do you see kindness as a prevalent character strength in America?


What are strengths do you see?
Please add a comment below, and "like" us on Facebook!
Originally published at www.OurValues.org, an online experiment in civil dialogue.
Dr. Wayne E. Baker is a sociologist on the faculty of the University of Michigan Ross School of Business. Baker blogs daily at Our Values and can be reached at ourvaluesproject@gmail.com or on Facebook.