Posted on
Sun, Nov 22, 2009 : 6 a.m.
Creating our own multicultural Thanksgiving traditions
By Frances Kai-Hwa Wang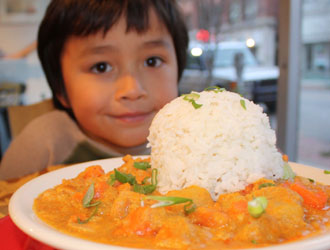 Frances Kai-Hwa Wang | Contributor
My neighbor Lisa always celebrated two Thanksgivings while growing up in Ohio, a tradition she and her siblings continue every year. First, they have a traditional "American Thanksgiving" on Thanksgiving Day with turkey, stuffing, mashed potatoes, and pumpkin pie. Then, on Friday, they have "Lebanese Thanksgiving" with
hummus
,
kibbe
,
fattoush
, grape leaves,
hashwe
rice pilaf, and meat and spinach pies. That makes for a lot of cooking and a lot of food, but with
five
six siblings and a ton of cousins, nobody misses a beat.
At Thanksgiving time, many families are caught wondering how to celebrate this quintessential American holiday — a holiday that is as much about the food as it is about family and giving thanks. Family is easy, everyone has family, as is the idea of giving thanks — especially for families that may have come to America because of war, oppression, poverty or lack of opportunity. However, celebrating a tradition that is not your own is more complicated than it looks.
When I was growing up, my mother always felt she ought to cook American food on Thanksgiving in order to celebrate it properly. She did not know how to roast a big turkey, so she would buy a little frozen turkey meatloaf instead, and make mashed potatoes and gravy from a box (we did not know there was any other way), and salad (which we never ate otherwise). It was terrible. We were miserable. We went to bed cold and hungry and confused about this Thanksgiving holiday with the terrible food until we finally figured out (thanks to our Japanese American neighbors) that we did not have to eat "traditional Thanksgiving food" if we did not want to, that we could create our own family traditions. Once we started celebrating Thanksgiving with Mongolian hot pot or dumplings, we relaxed and could make Thanksgiving our own.
When I was in graduate school at the University of Michigan, my classmates and I decided to celebrate Thanksgiving together at my Thayer Street house, but I did not understand why they insisted on eating Thanksgiving dinner at 3 p.m. "Who eats dinner at 3?" I also never knew that watching or playing football was a big part of Thanksgiving. Those details were not in the Thanksgiving children's books I read at school to learn about this holiday.
Another thing they never tell you while rehearsing the ominously prescient Pilgrims-Friend-Native-Americans-at-the-First-Thanksgiving-(before-stealing-all-their-land-and-wiping-them-out-with-disease-and-warfare) school pageant is how Thanksgiving changes after you marry, and you then have to adapt to the traditions and expectations of your spouse's family. When my girlfriend, Raquel, was anxious about celebrating her first Thanksgiving post-divorce without her children and in-laws, I had to remind her, "You never liked his family anyway."
Taking our cue from my neighbor Lisa's Lebanese American Thanksgiving, my family balances the very formal and traditional Thanksgiving at grandmother's house (turkey, stuffing, mashed potatoes, cranberry sauce, pumpkin pie, the "good" silver and china); with our own subversively raucous "Thanksgiving Eve" on Wednesday night with all our friends and an international potluck of Thai butternut squash curry, Chinese roast duck with sticky rice stuffing, sweet potato sushi, teriyaki chicken, hummus, moussaka, pulao, mangoes with black sticky rice, Thai pumpkin custard, and more.
Without the pressure of doing it "right," we are able to have fun and really create a holiday tradition for ourselves — one that honors and celebrates our family's many cultures and that makes a statement about our place here in America.
Frances Kai-Hwa Wang is a second-generation Chinese American from California who now divides her time between Ann Arbor and the Big Island of Hawaii. She is editor of IMDiversity.com Asian American Village, lead multicultural contributor for AnnArbor.com, and a contributor for New America Media's Ethnoblog. She is a popular speaker on Asian Pacific American and multicultural issues. Check out her Web site at franceskaihwawang.com, her blog at franceskaihwawang.blogspot.com, and she can be reached at fkwang888@gmail.com.