Posted on
Sun, Dec 13, 2009 : 6:26 p.m.
Spring 2010 Collection @ The Gallery Project
By Kelly Tinsley
The Gallery Project has a new exhibition which features artists as designers and social commentators. It's called Spring 2010 Collection and features the work of 27 local, regional, and national artists who have created pieces specifically for this exhibit. All of the artists involved had very impressive and thought provoking pieces which touched on topics such as recycling fashion, trend and culture, identity and more.
The artists and art collectives involved include basement6 (Jon Humphrey and Robin Coe), Jillian Brown, Betsy Brunner, Dorota Coy, Steve Coy, Bianca DePietro, Melissa Dettloff, Reed Esslinger, Jennifer Locke, Lana McKinnon, Modati (Bilal Ghalib, Sarms Jabra, Alexander Lee), Ryan Molloy, Barbara Neri, Amy Sacksteder, Gary Setzer, Bethany Shorb, Alexander Sobolev, Brooks Harris Stevens, Jim Stevens, Britten Stringwell, Jenn Stucker, Talking Squid (Taryn Boyd), Scott Tallenger and Andrew Thompson.
Here are a few words and a bunch of photos from the exhibit. (apologies to the artists for the low quality photos - I forgot my camera and only had access to my fiance's iphone.)
I've actually been a big fan of Bethany Shorb for years - she is a talented artist, designer and Musician. Shorb's work is displayed on the mannequins in the window and in the front of the room, and are followed by her photographic work in a stunning series titled Crash. My favorite pieces were the weather balloon, and 2 long skirts and a cowl made from dyed latex rubber. Shorb is a master with untraditional materials (see the human hair and brass cowl), and this exhibit just completely showcases the vast span of her talent.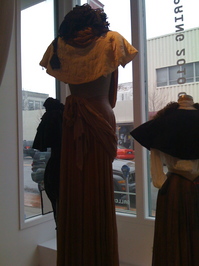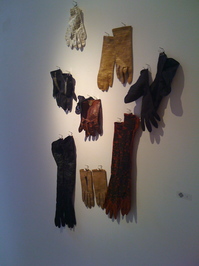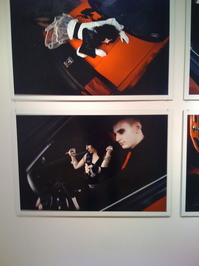 Another piece I admired was the work of Dorota Coy, titled Bubble Collection which featured multiple garments constructed from bubble wrap, feathers, steel wool, ribbon, packaging tape, lining from a used wedding dress and Christmas lights.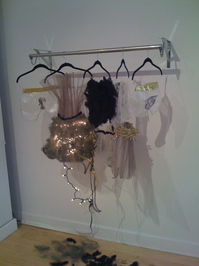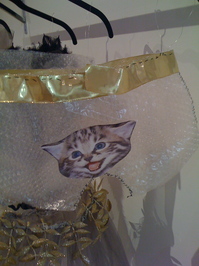 Reed Esslinger did Shrink - a pair of woman's jeans that had been twisted and shaped to create the feeling of well... shrinking. But it was very interestingly done from a construction standpoint, as she has used many stitches of red thread to create such an effect....and probably some other treatments as well. (Unfortunately the photo came out too dark to feature, which I'm really sad about because they were really cool.)
Here are some other photographs of pieces I liked.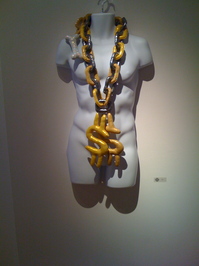 The exhibit was designed to be an interactive event. Unfortunately, I was not able to attend the opening reception, which featured a runway show this past friday (December 11). If anyone reading this was able to attend and took photos, I'd love to see them. There will be DIY projects throughout the exhibition, starting with live sewing and free screen printing classes on Friday December 11, 6-9 p.m.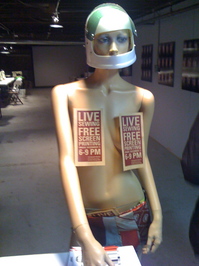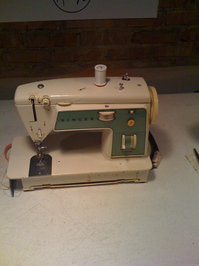 The exhibition is curated by artists Jennifer Locke, assistant professor of art at Eastern Michigan University, Steve Coy, art lecturer at The University of Michigan School of Art and Design, and Alexander Lee, a founding member of Modati, a local silk screening company. The Gallery is located at 215 S. Fourth. Hours: Tues - Thurs, noon-6; Fri and Sat, 12-9; and Sun, 12-4. Phone 734-997-7012 or www.thegalleryproject.com
I would highly recommend going to check it out while it's still around.
Kelly Tinsley is an Ann Arbor-based fashion designer who blogs about fashion and style for AnnArbor.com. You can visit her Web site at Kellylynne.com, email her at kellylynnetinsley@gmail.com, become a Facebook fan of her designs and follow her on Twitter.