Posted on
Sun, Jan 3, 2010 : 6 a.m.
Swine Flu: How the "colorblind" H1N1 virus reveals our cultural differences
By Frances Kai-Hwa Wang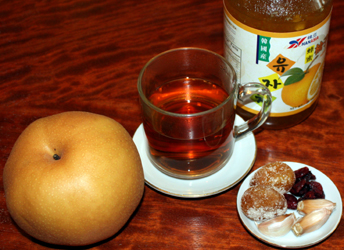 Various Asian flu remedies: Asian pear, ban lan gen, hot ginger lemon, dried red dates, dried kumquats, garlic. Frances Kai-Hwa Wang | Contributor
I was invited to a
special ethnic media briefing
at
Dossin Great Lakes Museum
on Belle Isle organized by
New America Media
(informally known as the AP of the Ethnic Press) with the
Centers for Disease Control and Prevention (CDC)
to get the word out about the
H1N1 (swine flu) virus and vaccine
to our ethnic communities.
At first, I was naively surprised to receive this invitation. I thought that the H1N1 virus ought to be "colorblind" and not care about race, ethnicity, or culture; that it ought to make our bodies sick the same way. Why would ethnic communities need special briefings?
However, as the doctors and specialists spoke about the issues facing different ethnic communities, I realized that although the virus itself may not care about the color of the skin it is bypassing, the way it manifests itself in real life is greatly affected by race, ethnicity, and culture (because we live in race, ethnicity, and culture). Understanding how something "colorblind" like flu impacts different communities helps us better understand each other.
For example, African-American, Native-American, and Pacific-Islander American communities have higher rates of chronic illnesses like hypertension and diabetes. Swine flu hits people with these chronic illnesses much harder. So when swine flu sweeps through these communities, it takes a much larger toll on the community than on the population as a whole.
When the first H1N1 cases were identified as coming out of Mexico, Hispanic Americans also had to deal with a racist backlash, as though it were their fault.
After being decimated by Western diseases and the American government, Native American communities have little reason to trust Western medicine or the government, and many would rather go to their elders for advice and use time-tested Native medicines. You would, too.
Flying while Arab or Asian-American is hard enough without also having to worry about being quarantined needlessly. Last spring, Detroit was one of the airport hubs targeted for automatic quarantine in China and Japan, disrupting many people's summer plans to visit relatives. This fall, H1N1 was of special concern for the 2 million Muslims expected for the annual Hajj pilgrimage to Mecca.
Those with large extended families living in close quarters, especially with the older generation babysitting the younger generation, can be especially vulnerable. Those who do not read or understand English fluently may have difficulty accessing information about the virus and the vaccine. Those without health insurance may not be able to pay for vaccines or treatment. Those who are undocumented may fear that going to government-sponsored flu vaccination clinics may put them and their families at risk of being deported.
It is more than comparing different cultural home remedies.
Dr. Corey Hebert, medical director of the Louisiana Recovery School District and assistant professor at Tulane University Medical Center, came to Detroit because community members here look like him and would be more receptive to him. He made a comment that really struck me. He said we should stop fooling ourselves with the idea that we are all the same. Instead, we should respect each others' differences so that we can hone in on what we need to do for each community, including working with spiritual leaders and traditional healers, educating children in schools, tackling barriers of language and culture, overcoming distrust of the government, providing free vaccines for those who cannot afford them—going to meet people where they are, both physically and figuratively, to give them the clear water of education and knowledge so they can make informed choices. He reiterates: "There is no cure for H1N1; there is only prevention."
Frances Kai-Hwa Wang is a second-generation Chinese American from California who now divides her time between Ann Arbor and the Big Island of Hawaii. She is editor of IMDiversity.com Asian American Village, lead multicultural contributor for AnnArbor.com, and a contributor for New America Media's Ethnoblog. She is a popular speaker on Asian Pacific American and multicultural issues. Check out her website at franceskaihwawang.com, her blog at franceskaihwawang.blogspot.com, and she can be reached at fkwang888@gmail.com.