Posted on
Sun, Dec 19, 2010 : 6:12 a.m.
The difference a cool voice of authority (like Santa) can make beyond Christmas
By Frances Kai-Hwa Wang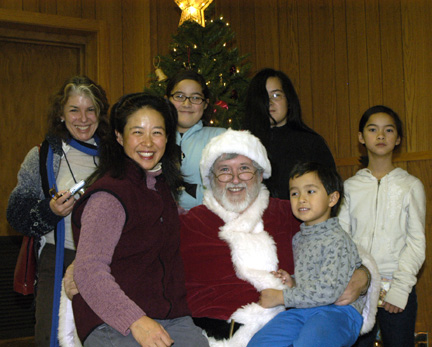 Frances Kai-Hwa Wang and Little Brother sitting on Santa's lap asking all the tough multicultural Christmas questions (Santa is good friends with University of Michigan Center for Southeast Asian Studies' Charley Sullivan), plus University of Michigan Center for Chinese Studies' Carol Stepanchuk and the rest of the author's children. | Photo by Ann Arbor Symphony Orchestra, 2008.
Last week, I went on a first grade field trip to Kensington Metropark. The naturalist assigned to our small group, Manfred Schmidt, took a few extra moments to learn to pronounce the beautiful names emblazoned on the children's nametags (Indian names, Korean names, Chinese names, Greek names). He said by way of explanation that he was from Germany.
When he showed us the bat house, he told the children that bats look like flying mice and were called fledermaus in German. He also told them about an opera of the same name. My 6-year-old son, Little Brother, actually remembered that song from the University of Michigan Halloween concert.
As our little group marched back towards the nature center at the end of our hike, the naturalist taught the children how to count in German, and the children taught him how to count in all of their languages, too. Eine, zwei, drei, vier. Yi, er, san, si.
Not only did the children have chickadees eating out of their hands, they also got an inadvertent lesson in language, culture and music. Nothing heavy-handed, it was just small talk; but it was small talk that made those cultural differences okay. Never mind that mom and dad probably say all those same things every day, but the naturalist was a teacher and a person in authority.
Growing up, I found the values and perspectives of the mainstream all around me all the time — from the timing of Christmas break to the Halloween activities at the library to the beauty pageants on television — whereas my parents' voices were not repeated anywhere else (except occasionally as the butt of a joke). It was easier to believe The Fonz or Erma Bombeck because everyone else did, too. Or was it simply the volume?
So for my children, I am always on the lookout for people and organizations to help reinforce the values I find important. My friend James the philosopher taught them big words like "hegemony" when my older two were only seven and eight years old. My artist friend Byron taught my younger two how to use a potter's wheel. My girlfriend Maneesha taught them how to cook their favorite Indian dishes while also demonstrating a generous graciousness. King School's "Bagels and Buns" event shows that Chinese buns are foods to be desired as much as bagels. Even the Tooth Fairy leaves little notes along with her coins reminding the children to brush their teeth every day and to eat their vegetables.
When some Huron High students were hurt by the cancellation of Multicultural Night (because it means something when it is an officially sanctioned school event), I invited them to perform at their alma mater, at King School's International Night.
However, there is no greater authority than The Man in Red.
The children and I love to go see Santa at the Ann Arbor Symphony Orchestra's Sing-along with Santa, which brings together music and musicians from around the globe. Santa leads the packed church with his velvety baritone and casually drops cultural tidbits gleaned from his interactions with children around the world. (Santa is good friends with ultimate cultural educator Charley Sullivan at the University of Michigan Center for Southeast Asian Studies). Then we go downstairs to sit on his lap, and Little Brother asks him all the big questions that have been worrying him, such as whether Santa really likes the mochi we leave him every year, how he gets into houses in Asia without chimneys and when Chinese School will start to get easier.
(Answer: "You have to do your Chinese School homework every week.")
Frances Kai-Hwa Wang is a second-generation Chinese American from California who now divides her time between Ann Arbor and the Big Island of Hawaii. She is editor of IMDiversity.com Asian American Village, lead multicultural contributor for AnnArbor.com and a contributor for New America Media's Ethnoblog. She is a popular speaker on Asian Pacific American and multicultural issues. Check out her website at franceskaihwawang.com, her blog at franceskaihwawang.blogspot.com, and she can be reached at fkwang888@gmail.com.