Posted on
Thu, May 6, 2010 : 6:12 a.m.
The Genesis of Chinese Writing and the Art of Chinese Calligraphy at UMMA Saturday
By Frances Kai-Hwa Wang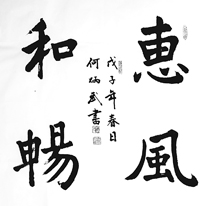 Chinese calligraphy by He BingWu | Reprinted with permission of SuiWah Chan
On Valentine's Day a year and a half ago, I heard
Michigan State University (MSU)
Emeritus Professor SuiWah Chan enchant a group of
teachers
by talking about the Chinese character for the word,
ai
or "love." Most people who talk about how Chinese characters have meaning built into them will point out that the word "heart" is at the center of the word "love," and leave it at that. However, Professor Chan went on to show how on either side of the word "heart" was a "hand"—one hand offering one's heart and another hand receiving that gift. So in Chinese, the word "love" has the notion of relationship physically built into the word. Since it was Valentine's Day, all the teachers swooned, of course.
All I could think was that this was so unlike Aristotle's notion of love, which is strictly one way—with the lover who adores the beloved. Both words are translated into English as "love," but the thinking behind each one is so radically different. I wonder how much of that background affects how we in the modern age think about these things? How much is transmitted when many of us no longer know the historical background to these words and concepts? What about those of us who are bilingual?
We have a wonderful opportunity to hear Professor Chan (also a University of Michigan Confucius Institute and China Mirror Project Associate) discuss the Genesis of Chinese Writing this Saturday, May 8, 2010, 2pm, at the University of Michigan Museum of Art (UMMA) Helmut Stern Auditorium, Ann Arbor. A warm and charismatic speaker, he will discuss the origin and evolution of Chinese writing from 3500+ years ago, when it was already a mature system of writing, and follow its development in history and art up to the present day. His gorgeous 12-panel calligraphy exhibit also debuts, which features the long history and evolution of the Chinese writing system, from the earliest ceramic signs and symbols and oracle bone script to the simplified Chinese characters used today.
Professor Chan's talk will be followed by a reception at 3:00 at the UMMA Commons.
At 4:00, there will be another lecture by Professor He BingWu, Director of the Research Institute for Ancient Texts at the Academy of Social Sciences in Xi'an, China, on The Art of Chinese Calligraphy, again at the UMMA Helmut Stern Auditorium. Professor He is an expert in Chinese calligraphy who will discuss how to interpret and appreciate the fine and nuanced art of Chinese calligraphy, including the aesthetics of various script types and brushwork. He will show how the relationship between Chinese writing and calligraphy is much like that of form and shadow—one cannot be separated from the other.
Professor He's talk will be followed by a live performance of Chinese calligraphy to showcase his works in various scripts and styles at 5:15 at the UMMA Forum.
These talks punctuate two traveling exhibits on display at the UMMA Multipurpose Room this Friday, Saturday, and Sunday: Genesis of Chinese Writing by SuiWah Chan and Contemporary Works of Calligraphy by He BingWu.
Sponsored by the University of Michigan Confucius Institute, University of Michigan Museum of Art, and the Midwest Institute of International and Intercultural Education, these programs are part of a nine-venue tour of Midwestern educational institutions to foster a broader understanding of the significance of Chinese writing and a deeper appreciation of Chinese calligraphy as art.
Frances Kai-Hwa Wang is a second-generation Chinese American from California who now divides her time between Ann Arbor and the Big Island of Hawaii. She is editor of IMDiversity.com Asian American Village, lead multicultural contributor for AnnArbor.com, and a contributor for New America Media's Ethnoblog. She is a popular speaker on Asian Pacific American and multicultural issues. Check out her website at franceskaihwawang.com, her blog at franceskaihwawang.blogspot.com, and she can be reached at fkwang888@gmail.com.