Posted on
Tue, Jan 11, 2011 : 6:12 p.m.
There are other ways of being a Chinese mother than Amy Chua's Tiger Mother
By Frances Kai-Hwa Wang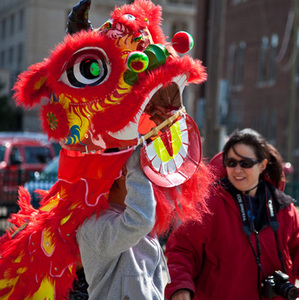 Photograph courtesy of Andrew Fang - Photasa.com
On Saturday, the Wall Street Journal published an excerpt from Yale law professor Amy Chua's upcoming book, "Battle Hymn of the Tiger Mother," entitled, "Why Chinese Mothers Are Superior—Can a regimen of no playdates, no TV, no computer games and hours of music practice create happy kids? And what happens when they fight back?"
Let me just say I think this article is completely over-the-top self-satisfied and insane (although I hear the book is more nuanced and conflicted).
Amy Chua's hard-core parenting style which she provokingly calls "Chinese" parenting (when really what it is is incredibly hard-core, strict, high expectations parenting, common but by no means definitive of Chinese and Asian immigrant parents) includes a draconian regimen of no sleepovers, no playdates, no school plays, no TV or computer games, no choosing their own extracurricular activities, no grades less than an A, no being less than the number one student in every subject except gym and drama (now how would they even do that in all of China? It is not Lake Wobegon.), no instruments other than piano or violin, no not playing piano or violin.
I did all those things. My kids do all those things. In my writing, I recommend many of those things (especially school plays). Chua dismisses us — we are not really Chinese.
Chua is irresponsibly feeding into the current atmosphere of China-baiting and xenophobia, while also missing the other indicators that might have contributed to her success like education, wealth, class, etc. She appears unconscious of the Asian American history wrapped around her life as well as the social and economic realities facing other less-privileged Asian American families.
Thanks a lot for perpetuating the racist stereotypes so many of us work so hard to dispel.
It was only two weeks ago that Pennsylvania governor Ed Rendell, irritated that the NFL postponed the Philadelphia Eagles' home game against the Minnesota Vikings because of a huge incoming blizzard, complained:
"We've become a nation of wusses. The Chinese are kicking our butt in everything…If this was in China do you think the Chinese would have called off the game? People would have been marching down to the stadium, they would have walked and they would have been doing calculus on the way down."
Calculus? Honestly! Some people think we are all robots.
There are many truths in her approach — practice, rote repetition, firmness, high expectations, success breeds confidence — but those all get lost in the horror of the emotional abuse she justifies as "Chinese" shame. By the end of the article, she is no longer a strict high expectations parent, she is a parent out of control, calling her 7-year-old daughter all sorts of terrible names and desperately threatening her "with no lunch, no dinner, no Christmas or Hanukkah presents, no birthday parties for two, three, four years"… over a piano piece.
Blogger Byron Wong writes: "Yes, there are abusive Asian assholes who are parents, but these parents abuse their kids because they're assholes, not because they're Asian."
Chua writes: "If a Chinese child gets a B — which would never happen — there would first be a screaming, hair-tearing explosion." Actually, since her article came out, that screaming explosion has been in the Asian American blogosphere. Asian Americans all know lots of hard-core Asian parents like her, parents who beat and browbeat their children into perfection and whose children graduate valedictorian in their class but then never go home again, or after dutifully and miserably completing medical or engineering school then change professions to become artists and actors, or who self-destruct completely. Asian American women have the highest depression and suicide rate in the country.
More than anyone else, Asian Americans know the cost of her hard-core parenting style. Blogger Betty Ming Liu writes the perfectly titled, "Parents like Amy Chua are the reason why Asian-Americans like me are in therapy."
Certainly there are cultural differences between Chinese/Asian and Western priorities and practices that need explaining. However, academic excellence and nurturing children's spirit need not be an either-or proposition. My teenage daughter Hao Hao and her friends have light-hearted competitions to see who has the "meanest Chinese mom" while also groaning when they receive an "Asian Fail" on an exam (A-).

For a taste of Frances Kai-Hwa Wang's "Asian American" parenting style, which other than high expectations is pretty much the opposite of Amy Chua's approach, check out this article, "APA Girl Power! Raising Strong and Confident Asian Pacific American Daughters." Frances Kai-Hwa Wang is also a popular speaker available to speak to parenting, teacher and community groups on "Multicultural Toolbox: Raising our children with culture(s), languages, and pride" and other parenting issues.
Frances Kai-Hwa Wang is a second-generation Chinese American from California who now divides her time between Ann Arbor and the Big Island of Hawaii. She is an editor of IMDiversity.com Asian American Village, lead multicultural contributor for AnnArbor.com and a contributor for New America Media's Ethnoblog. She is on the Advisory Board of American Citizens for Justice. She team-teaches "Asian Pacific American History and the Law" at University of Michigan and University of Michigan Dearborn. She is a popular speaker on Asian Pacific American and multicultural issues. Check out her website at franceskaihwawang.com, her blog at franceskaihwawang.blogspot.com, and she can be reached at fkwang888@gmail.com.