Posted on
Sun, Oct 17, 2010 : 7 p.m.
Unwittingly touching and changing the world and people around us
By Frances Kai-Hwa Wang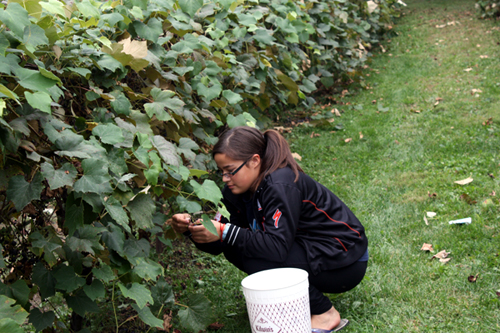 My daughter Hao Hao harvesting 100-year-old heirloom grapes in the middle of town. Photo by Frances Kai-Hwa Wang
A Palestinan American friend, upon learning where I lived, recalled that while growing up in
Ann Arbor
, his best friend's family used to live at the end of my street. It was like his second home, and he and his friends used to go back and forth between the two houses all the time, especially during the summer. He said that even though the other family has long since moved away, his mom still goes there to pick the grape leaves that now grow through the back fence into the park.
Hey, I know that house.
My Lebanese American neighbor also goes to the same secret spot to pick grape leaves with which to make dolmas.
That night as I ran my dog around the block, I found an errant grape plant that had migrated and planted itself in the front yard of that house and had begun to trellis itself up a utility pole. I touched its leaves and thought about the immigrants that have come before and how no one knows all the small ways one touches and changes the world and people around us.
Shortly thereafter, the children and I went to my friend Laura's annual grape harvest on the other side of town. She lives in a 100-year-old house that was originally built by an Italian family who planted a grape arbor alongside the house. It is surprising to see these four huge rows of grapes in the middle of the city, but it must have been so important to that family to be able to make their own wine back then, back before Village Corner and Morgan & York. The sweet smell of these — what we would now call — heirloom grapes intoxicates the entire neighborhood.
My children are happy to help pick and eat the purple grapes because it is a beautiful Saturday afternoon, there is live music playing in the background, and there are homemade enchiladas to eat up at the house. It is easy work when one is only doing it for fun, and they cannot even fathom the lives of those who work in the fields for real, past or present. Another group of people is trying to make wine, making kids stomp grapes with their feet in a little plastic swimming pool, and I am reminded of that old I Love Lucy episode when Lucy stomps grapes in Italy in an attempt to "suck up local color."
Some say the immigration debate is fueled by fear of the changes that immigrants bring — pretty funny for a nation of immigrants (Native Americans are not laughing).
In the late 1800s, Chinese Americans literally left their mark on the American landscape by blasting through the Sierra Nevadas to build the Transcontinental Railroad, and in the early 1900s, Japanese American farmers transformed the swamps of the Sacramento delta into fertile farmland, but this is a different sort of mark.
I find it touching that although these two families moved away long ago, the grapes that they planted to make America home continue to thrive and feed other families today. I can still see and touch and taste how these families inadvertently changed the landscape, as I am sure the landscape changed them, too.
Writer Paul Theroux, who was here as a part of the University of Michigan's Peace Corps 50th anniversary celebration, has written about how when he was in Malawi as a Peace Corps volunteer, he was supposed to be the one helping others in this very different landscape, but how actually, surprisingly, and permanently, he was the one who was changed.

Frances Kai-Hwa Wang is a second-generation Chinese American from California who now divides her time between Ann Arbor and the Big Island of Hawaii. She is editor of IMDiversity.com Asian American Village, lead multicultural contributor for AnnArbor.com, and a contributor for New America Media's Ethnoblog. She is a popular speaker on Asian Pacific American and multicultural issues. Check out her website at franceskaihwawang.com, her blog at franceskaihwawang.blogspot.com, and she can be reached at fkwang888@gmail.com.