Posted on
Sun, Jun 12, 2011 : 11:05 a.m.
Pondering picnic food - 'normal' and not - and its power to bring us together
By Frances Kai-Hwa Wang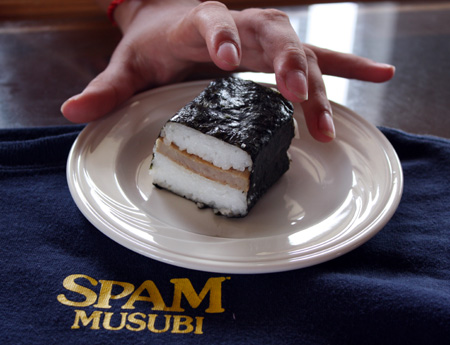 While cleaning up after our annual
Memorial Day
potluck picnic barbecue, my daughter
Hao Hao
asked, "Who brought the potato salad? That was random."
A lifetime of mayonnaise angst flashed through my head and I explained, "Actually, potato salad is a pretty normal thing to bring to picnics."
"Really?" She had never even noticed.
I think she associates potato salad with Easter, since that is the only time I ever make it. With four children, we always end up dying a lot of Easter eggs, so that translates into a lot of potato salad (inevitably multicolored) in the days following — usually so much that we cannot even bear to think about it again until the following Easter.
I recall the many family picnics we have had in Gallup Park and the fun of preparing Spam musubi, onigiri, inari sushi, edamame, teriyaki chicken. Watching for rain, I start cooking early in the morning, pack everything up into beautiful big bento boxes, throw in our much-loved Hello Kitty picnicware and our trusty Nepalese picnic blanket, and hop onto our bikes for a day at the park.
This isn't what other people bring to picnics? What is normal picnic food?
If it is a potluck picnic, then I always bring the same thing: my mother's cucumber salad. It is easy, crisp, light. It takes exactly 2 minutes to make. I timed it once. One minute to cut and salt the cucumbers, one minute to make the marinade. A spoonful of hot sauce if folks are brave.
If Hao Hao is going, then she also has to make Spam musubi, the perfect picnic food — rice, nori, Spam — a complete meal neat in your hand.
It is fun to see how the potluck aspect turns out, depending on who attends. I remember one potluck that had only sweets (except for my mother's cucumber salad, sitting there forlornly) and another that had only salads. The best potluck picnic of all was when Sujata brought tandoori chicken, thick with that red sauce, to put on the grill.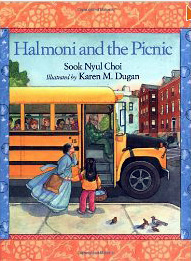 One of my favorite children's books is "
Halmoni and the Picnic
" by
Sook-Nyul Choi
, illustrated by
Karen Dugan
(Houghton Mifflin, 1993).
Yunmi's grandmother, whom she and her friends all call Halmoni, has just come to New York City from Korea to help watch Yunmi while her parents are at work. When Yunmi's friends volunteer Halmoni to chaperone the class picnic, Yunmi worries that her other classmates may make fun of Halmoni's inability to speak English, her traditional hanbok and pointy shoes, or the kimbap she brings to the picnic to share.
However, during the picnic, all her worries are unfounded as her classmates learn that kimbap is delicious and that Yunmi's grandmother is not just some old lady who cannot speak English. She was a respected teacher in Korea, very smart and very kind. Picnics can be powerful.
A friend once asked me to help brainstorm how to make an ice cream social (the ultimate year-end picnic) at her child's elementary school in Troy more inclusive. Should they find Indian and Chinese brands of ice cream? Should they include Indian or Chinese games and activities? Should they allow savory items in the cakewalk for those families who do not bake?
In the end, they decided to also serve mango ice cream, so that all the children could try it. Mango would be something new for some children, something very familiar for others.
It was a subtle move that expanded the boundaries of "normal" just a bit, in the safe space of a picnic, to bring everyone in a little closer.
Note: Today is Ann Arbor's favorite community picnic--Grillin' for Food Gatherers!
Frances Kai-Hwa Wang is a second-generation Chinese American from California who now divides her time between Ann Arbor and the Big Island of Hawaii. She is an editor of IMDiversity.com Asian American Village, lead multicultural columnist for AnnArbor.com, a contributor for New America Media's Ethnoblog, and a contributor for Chicagoistheworld.org. She is on the Advisory Board of American Citizens for Justice. She team-teaches "Asian Pacific American History and the Law" at University of Michigan and University of Michigan Dearborn. She is a popular speaker on Asian Pacific American and multicultural issues. Check out her website at franceskaihwawang.com, her blog at franceskaihwawang.blogspot.com, and she can be reached at fkwang888@gmail.com.