Posted on
Wed, Jan 25, 2012 : 11 a.m.
Why we fish: Lessons learned from fly fishing
By Tom Teague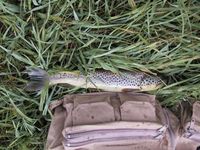 Tom Teague | Contributor
Because fly fishing is such a peaceful pastime, pursued on quiet, beautiful streams and lakes, many non-anglers carry an almost mystical impression of the sport. I am frequently asked what I get out of fly fishing; I think those people really are asking, "What would I learn if I took it up?"
A lot. It's a sport that combines serenity, triumph and frustration in exactly the right proportions to teach lasting lessons. Time on a stream can include a mix of wily fish, un-imitable insects and wild beasts such as bears and other anglers. Here are the first four-and-a-half things I learned from all that.
One: Old trout don't rise quickly to the fly. This is how they get to be old.
To the frustration of anyone who has painstakingly matched size, color and pattern to actual insects on a stream, old trout will watch flies drift overhead only to noisily gulp down a living look-alike. These fish watch for anything — a wake or ripple— that flags the fly as artificial.
Aesop could draw multiple morals from this: That anglers must show the patience of old trout, that even one odd ripple in a stream full of eddies and bubbles can portend danger, or that it's sometimes wise to keep your mouth closed, lest you end up looking supremely foolish.
Two: We are not always at the top of the food chain.
I turned around one time in Yellowstone backcountry and saw that a grizzly bear had sauntered near and was evidently critiquing my casting technique.
When I'm more than 75 feet from a road in grizzly country, I carry bear repellent mace. In fact, I carry the Papa Bear size, which is slightly larger than a home fire extinguisher. It supposedly will deter the angriest of bears. But, as one fly shop owner told me, there may be unreported cases in which it failed. I didn't ask why they were unreported.
Books advise not to look a grizzly in the eyes, to speak gently, to back up slowly and to not use the mace unless they charge. Books don't mention freezing in place and begging the bear not to attack while trying to control your shaking hands long enough to disengage the safety on the can of mace, which is what I did. A ranger later told me, "It didn't maul you, so you did something right."
Meanwhile, my fishing buddy hid in the tall grass and hissed a series of contradictory suggestions such as "get down" or "don't move." I didn't mace the bear. It moved along after 10 years or, as my friend called it, 30 seconds. He triangulated the bear's position, walked it off, and said that the grizzly was no more than 30 feet from me. "He could have been on you in half a second," he said.
Turns out that no one has anything comforting to say about grizzly encounters.
Two and a Half - A Corollary to Lesson Two: Trust but verify.
This friend had told me that he also was carrying mace, 
a comforting thought during my grizzly face off. After the bear left, my friend whipped out a mace container the size of a roll of pennies. It wouldn't have discouraged a petulant child, let alone an adult grizzly.
Three: Seek the truth but respect the narrative.
Fly anglers tell stories about events that could — except for the lack of believability — be regarded as miracles. One cool night around a fire outside a lodge, listening to funny scotch-fueled fishing stories, I decided to pull out my digital camera and show a photo of a small but nice trout that I had caught, photographed and returned to the stream earlier in the day.
The other anglers had been telling stories about their arms growing tired from catching so many fish, or hooking trout big enough to spit up Jonah. When I showed the photo the stories ended. The evening turned ruminative and quiet. The guy with the single malt turned in early and took his bottle with him.
And I no longer confuse Story Hour with Show and Tell.
Four: Rivers really are the perfect metaphor for life.
At least once in your life, you should wade into a fast-flowing river and look upstream. All of the visible landscape — cuts, creeks, draws, hills — is a giant system to deliver water precisely to where you are standing. Waters from multiple sources — springs and small creeks, smaller rivers, distant clouds — are joined right at your feet.
Turn downstream and you suddenly yearn to find out what else will add to this river as it continues on. This fits nearly any aspect of your life: Family, learning, career, politics, and money. Rivers provide the perfect reason to go fly fishing.
Send me an email if you are tying unique flies, involved in activities related to local fly fishing, or even have a great Michigan fly fishing story to share.
Tom Teague is a local consultant, writer and fly angler posting every other Wednesday — more often if there's news to share — in the Lifestyles section of annarbor.com. You may email him at tom@tomteague.com.