Posted on
Thu, Feb 9, 2012 : 10:22 a.m.
American Kennel Club welcomes new breeds for 2012
By Lorrie Shaw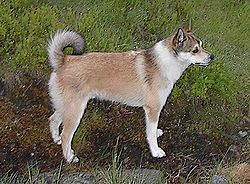 flickr photo courtesy of Dancing Dog Blog
The American Kennel Club gets a lot of press each spring with the Westminster Dog Show, but a lot of activity also happens throughout the year.
From sanctioned activities to workshops and curation of recognized breeds, there's always something happening. Recently, the organization announced that a handful of new breeds will be debuting at Westminster this year — some breeds you may be familiar with — while others might seem a bit more obscure.
Three new additions to the organizations registry — which now stands at 170 — join a few notable breeds that were featured last year: the Norwegian lundehund, Xoloitzcuintli (say it with me!: "sholo-squint-lay") and the Entlebucher mountain dog have received the organization's official recognition.
The Norwegian lundehund has characteristics unlike any other canine, and for good reason. Used to hunt puffins in Norway in times past (puffins are protected, now), they had to adapt to the conditions. They developed ears that could fold for protection, a flexible skeletal structure to help squeeze through tight spots and one very visible attribute: they're polydactyl. No other breed has six toes (or more in some cases) on each foot. These extra appendages helped to provide stability in the challenging environment that they helped to hunt in: caves and in crevices along near-vertical cliff walls.
You'll see these dogs and others that have been recently recognized by the AKC at the Westminster Kennel Club 136th Annual Dog Show, which takes place at Madison Square Garden on Feb. 13-14.
Lorrie Shaw is leads the pets section for AnnArbor.com. You can follow her daily pet adventures on Twitter and subscribe to AnnArbor.com's email newsletters.