Posted on
Wed, Jun 9, 2010 : 3 p.m.
Animal blood bank serves a vital need
By Lorrie Shaw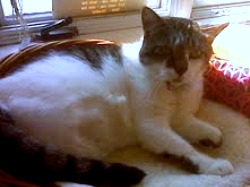 Lorrie Shaw | Contributor
One of a pet owner's worst nightmares: your dog or cat becomes seriously injured or ill. After visiting an emergency vet, it's determined there is a treatment plan that can be put into place to save your pet's life — one of which may be a blood transfusion.
A few weeks ago, I was waiting in the reception area of my vet's office and saw an interesting flier for an blood drive facilitated by a local animal blood bank, which was to be held in the coming days. I was intrigued, as I had never really given much thought to animals needing blood — a sentiment shared by several people with whom I had spoken about the topic this past week. After some research I discovered that blood products are usually administered in trauma cases, of course, as well as cases involving immune mediated issues and poisoning.
Recently I had the opportunity to visit Animal Blood Resources International, a USDA regulated facility holding Class B and Class R licenses, located in Stockbridge. They provide components such as whole blood, red blood cells, plasma and canine platelets.
Although large medical facilities like Michigan State University's College of Veterinary Medicine have their own blood banks, smaller animal hospitals and private practice clinics — locally and elsewhere — lack the ability and resources to do so themselves. That's where ABRI comes in. Dr. Cheryl Smith, DVM took me on a tour of the main building, where we chatted more about the donation process and the day-to-day work that is done there.
The company periodically holds blood drives at local veterinary offices, animal hospitals and also at the facility, where dogs can act as donors. Canines must be between one and seven years of age and weigh more than 50 pounds to donate. Good health history is imperative, as is a friendly disposition. No other drugs other than heartworm and flea medication should be taken by donors.
Since dogs can only accept canine blood components, cats are needed to be donors for their own species, and there are in-house donors who fill that need. Felines housed in animal shelters who are slated to be euthanized are obtained by the blood bank and become a viable solution for unwanted adult cats. After intake, cats are housed in an isolation unit in the facility, where they are kept for a minimum of eight weeks to be observed and health-checked. During this period the cats are vaccinated and microchipped, and any health issues like upper respiratory infections are taken care of.
Once a clean bill of health is given, they are transferred to one of three spacious "cat rooms," where they spend their time with other cats. They act as donors for one year, at which time they are retired and enter the adoption program. Volunteers spend a few hours each day hands-on with the cats during their time at Animal Blood Resources International, including after the one year donation period. Time spent interacting, playing and utilizing the enriching environment that is provided is par for the course.
The volunteers — both adults and kids — also serve another purpose: They provide Adoption Coordinator Diane Carpenter vital information so she can obtain a behavioral and personality profile of each cat. The animals are exposed to men, women, and children, as it's important to discern if the pet has any aversions to a specific gender or age group in children, etc. This allows the coordinator to access the kind of adoptive families that the cats will thrive in, and because the cats are there for at least one year, a lot is known about each animal - and placement usually has a higher chance of success.
Each animal is fully vaccinated, microchipped, thoroughly health-checked, and has low adoption fees. In addition, dental exams are standard, as optimal dentition is crucial for overall health. All animals permanently remain under the care of the staff until they are adopted.
There are upcoming blood drives being hosted around the area:
Saturday June 19 at Westarbor Animal Hospital
Saturday June 26 at Village Animal Clinic of Dexter
For volunteer opportunities at the facility and pet adoption information contact Diane Carpenter.
Lorrie Shaw is owner of Professional Pet Sitting, a pet blogger and a regular contributor to AnnArbor.com. You'll find her in neighborhoods in the area dog walking and caring for other pets. Stop her and say hello or contact her via e-mail.