Posted on
Tue, Jul 26, 2011 : 5:37 a.m.
Animals have assisted during wartime throughout history, and still do so in unique ways even today
By Lorrie Shaw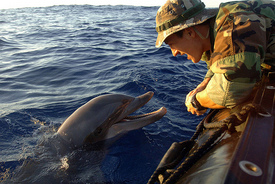 flickr photo courtesy of Marion Doss
Throughout history, humans have tapped into the physical and mental abilities that animals possess to do what we simply are unable to.
Horses have been used in farming and for transportation, and dogs in early times acted as hunting companions and also as protection. In some cultures, this is still the case.
Animals have also been used in war in the past, and continue to be used in the military today, though the ways we use them have evolved.
We've all heard stories of canines and horses being used by the military, but there may be more to the story than you know.
Honing in on a dolphin's ability to utilize biological sonar, the United States Navy has employed the use of these marine mammals to search for mines, so that they can be marked and cleared. Dolphins can also tag enemy swimmers.
Sea lions, with their superb low-light vision and ability to dive great depths repeatedly, also assist in sweeping mines. The work of one sea lion, two handlers and a rubber boat can replace a fully-manned and equipped vessel used to do the same job.
Bees are being used today to detect land mines, although they were used as far back as the first century, B.C. to help slow the progression of invading troops: the honey that was produced during specific times of year would be poisonous (resulting from the nectar of rhododendron and azalea). Soldiers would frequently loot and raid; raiding the honey stores resulted in illness and delirium, putting a dent in their approach.
The carrier pigeon's ability to fly hundreds of miles to carry messages before more sophisticated technology was developed to allow for better communication during wartime.
Mules — offspring of a male donkey and a female horse — are known for their endurance and can carry heavy loads. For centuries, these animals were used to carry supplies and weapons the distance. Today, they are still used to keep supply lines open for the United States troops in remote areas of Afghanistan.
But, one of the most recognizable animals used during wartime are military working dogs: detecting improvised explosive devices, or IEDs, is demonstrated here in the following video, courtesy of NATO Channel. Diego, a military working dog, is the focus of this segment:
Lorrie Shaw is lead pets blogger for AnnArbor.com. Connect with her on Google+ or e-mail her directly.