Posted on
Sun, Aug 1, 2010 : 12:23 p.m.
Do we expect too much from our dogs?
By Lorrie Shaw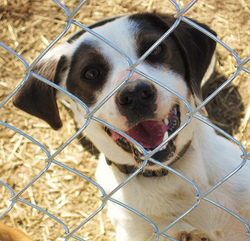 flickr photo courtesy of jeffreyw
Life for companion animals has changed immensely, primarily over the past 20 years.
Advances in medicine and understanding animal behavior, and better approaches and understanding of nutrition have come a long way. Animals are living healthier lives physically - but what about psychologically? Are we doing all that we can for our pets to assure their mental fitness? Are the expectations that are being placed on some dogs especially, just too high?
Our society favors high achievement, fast movers and goal setters - thriving on the 30-minute meal, the list-making-quick-fix-structured-take-a-pill-it-will-solve-the-problem-do-it-my-way mentality. Dogs just don't live that way. Canines are as vastly different from each other in personality and natural ability as humans are. Despite what is thought by some, there is nothing true about the phrase, "all dogs are the same."
This culture of "I saw this television show where this individual spent like 5 minutes with this really aggressive dog, and changed them instantly!" isn't doing the canine species any favors, either - although it might be getting people to focus on the fact that more care needs to be given in the area of animal behavior as a whole. Do the shows that we see on television with regard to dog training cloud our common sense? In many cases, yes, sadly.
There are a lot of what I call "armchair dog trainers:" people who see someone on a television show administer advice, using catchphrases like "alpha-male dominance" and a "training plan" to dog owners on the show who are at their wits' end. The armchair trainer then tries to apply these techniques on their own pet, and in many cases fails.
You can't believe everything that you see publicized, or that's on television, especially when it comes to behavioral modification methods like the alpha roll. In fact, some things can be downright dangerous. It's better to get in touch with a qualified animal behaviorist and get solid advice that works. An article in Time Magazine by Jeninne Lee-St.John illustrates myths and dog training fallacies further.
In the quest to provide what some
perceive
a high quality of life to be, I'm going out on a limb to say the essential nature of some dogs has been lost. The very core behaviors that make each breed - each dog, even - unique and valuable individually, are in some cases squelched to the point that the traits become permanently replaced with unsavory, unruly behavior. Welcoming a dog into a family should be a decision taken with great consideration, not on the basis that a dog "looks cool" or that a breed is popular.
With so many breeds of dog having specialized skills in groups like
herding
, working and sporting - and with traits like barking, hunting, tracking or a strong
guarding
instinct - it's vital that a pooch is selected based on its compatibility with a family and their lifestyle and experience, their willingness to foster the unique skills in a positive way, and for no other reason.
There are just too many stories of dogs needing to be re-homed or mistreated because their behavior is out of control, and in many cases it's because of one thing: the dog is not able to do what he is hard-wired to do by Mother Nature. Go against nature, in many cases, the end result is a dog that is unhappy, frustrated and unmanageable. Trying to modify a breed's true nature is wishful thinking. Some breeds are not well-suited to living in the city, or in a neighborhood setting. I cannot emphasize the necessity of understanding specific traits, needs and behaviors, breed by breed.
With 148
animal shelters
in the state of Michigan alone, there are thousands of homeless pets that comprise the various statistics from 2009, according to the
Michigan Department of Agriculture
. With many more animals additionally circulating through
pet rescues
, I think it's safe to say that we humans can do a much better job of being sure that dogs and cats are
spayed
or
neutered
. It's easy, relatively inexpensive and can save so many lives.
In the process it would reduce the burden on shelters and rescues, and reduce the number of animals who experience behavioral problems, like trust issues and aggression - from being bounced around from household to household and mishandling. Dogs and cats alike cannot discern for themselves what is right as far as reproductive issues. We need to do it for them.
There are so many canines who have behavioral issues that stem from mishandling or abuse, and for some, the are re-homed. Our household has firsthand experience with this. One thing that I can say unequivocally is that sometimes, you have to just accept the dog the way that they are: focus on the issues that are manageable and find a way to live with the rest (if it's a safe situation, of course). Unfold them, don't mold. At some point, you realize that having unrealistic expectations for what a dog is able to give emotionally, mentally and physically is just not good for anyone.
In order to get the most out of dogs so that the can live harmoniously in the world that they've been thrust into, we need to do a better job of understanding theirs.
Lorrie Shaw is owner of Professional Pet Sitting as well as a regular pets contributor on AnnArbor.com. She also blogs frequently on More Than Four Walls, and enjoys researching solutions regarding pet wellness and behavior, as well as social issues related to pets. She can be reached via e-mail.