Posted on
Fri, Sep 2, 2011 : 2:41 p.m.
Infected dogs at risk due to heartworm treatment shortage
By Lyssa Alexander, DVM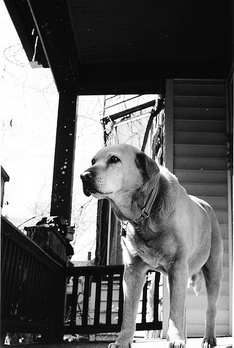 flickr photo courtesy of BradleyMetler
Heartworm
disease is a serious problem for dogs across the
United States
and beyond. The southeastern United States has a much higher disease prevalence, but heartworm disease has been found in every state. I have personally treated several cases here in Ann Arbor in the past 12 months alone.

Dogs become infected with heartworms when bitten by an infected mosquito. From that point, the larvae mature and migrate inside the dog and eventually make their way to the large blood vessels of the heart. A mature infection with adult heartworms can cause significant heart and lung disease and is often fatal if left untreated.
Educating the public about heartworm disease, promoting heartworm prevention and treating heartworm infection are important parts of veterinary medicine today. There are several good heartworm prevention medications available for dogs and cats.

Most veterinarians recommend a yearly heartworm test and year-round heartworm prevention. Preventions are generally very effective when given this way.
The only approved treatment for an adult heartworm infection is Immiticide, which is produced by Merial. On Aug. 4, Merial sent a letter to veterinarians across the country stating that Immiticide is going to be unavailable for an unknown period of time.
Current recommendations by the American Heartworm Society are to treat heartworm-positive dogs with a slow-kill method. This method involves continued use of preventative, antibiotics and possibly steroids.
The slow-kill method also involves strictly resting the dog for extended periods of time (this means no walks or exercise for 12-18 months). This is not an ideal treatment method because the heartworms persist for a long period of time, causing further damage to the heart, lungs and blood vessels. However, during this period of drug shortage, there are few choices available.
In light of the current shortage of treatment, the importance of using heartworm prevention diligently cannot be stressed enough. Heartworm infection is a scary condition made even worse by the recent shortage of Immidicide. It goes back to the old saying, "an ounce of prevention is worth more than a pound of cure."
Dr. Lyssa Alexander treats small and exotic animals and pocket pets at All Creatures Animal Clinic in Ann Arbor.