Posted on
Sat, Jan 7, 2012 : 9:30 p.m.
Tips and commonly missed problems to consider when your cat's eating habits change
By Lorrie Shaw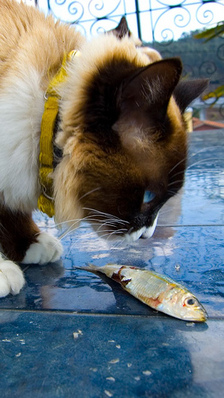 flickr photo by Jsome1
In most households, the humans will tell you that there is one sure-fire way to get a pet's attention: open the refrigerator door.
Living with humans has likely changed the way that pets think about food as a whole. It can be a bit ho-hum at times for them and terribly disconcerting when you see them turn up their nose at the bowl of food that's plunked down in front of them.
Cats are usually the species associated with being fussy or finicky. However, while their eating habits can be fussy, it's a little daunting for those who share life with them when, suddenly, they don't seem interested in eating at all.
Most of the time, it's no cause for alarm, and there are ways to help overcome the food boredom that some felines experience.
Having said that, it's important to fine tune your skills as the cat's caregiver to discern if it might be a serious problem and if a call to your veterinarian is necessary.
As a wise clinician told me years ago: "Remember, you know your pet better than anyone. You are my first line of defense in helping your animal."
There are a few tricks and things to keep in mind to help your furry friend get over a gastronomical slump, and they are easy to employ.
Everyone loves fresh food.
Think about it — we all prefer food that smells fresh and appetizing. Most cats free feed easily, but if their bowls are too full and the kibble sits for too long, some cats get fussy. Try adding food throughout the day to keep them interested.
Most folks feed at least a little canned food to show their cats a little love, and keeping portions small at each feeding is a boon for both human and feline. This achieves two things: you avoid from wasting any uneaten food and the grub remains fresh for the duration.
Capitalize on kitty's sense of smell.
Our sense of smell is integral to allowing us optimal enjoyment of what we eat, and the same holds true for pets. Improving the palatability of your cat's wet food is easy: try sticking it in the microwave for a few seconds. Heating the food slightly will release the aroma and likely will encourage Fluffy to chow down.
You're not my type.
Yes, cats even have a preference as to what kind of canned food that they like. Most cats prefer paté style, as opposed to flaked or even chunks. If you're offering one of the latter two, stick to a pate instead.
No such thing as a free lunch.
Some cats are just plain bored. In the wild, cats have to hunt for food and most certainly have retained a lot more of their hunting skills than dogs have. Consider using a foraging toy to encourage them to work for their food. Most cats love it and will gain enjoyment out of working with toy like the Bat-A-Rat, which is made in Michigan. Click here to read more on foraging toys for cats.
If none of these tactics work, consider what Dr. Marty Becker, DVM suggests on his vetSTREET blog. Trying some of your pet's most valued treat food, like some cooked chicken or fish, can be helpful in jump-starting its appetite.
One last item to consider when it comes to the lack of interest in eating — lack of interest might not be the problem at all. It can be that your cat cannot eat. Dentition problems are common, especially in older felines, causing pain. It can be hard to detect an issue with your cat's teeth, but here are a few clues:
Drooling
Leaving their hard food, but eating any wet food, if eating at all
Taking longer to eat
Choosing to forgo treats
Tilting the head in an odd way
Mouth odor
In any case, if your cat is still turning down food regularly despite your best efforts — and especially if it is losing weight — a visit to their veterinarian is needed to get to the bottom of the problem.
Lorrie Shaw is lead pets blogger for AnnArbor.com. Connect with her on Google+ and follow her daily pet adventures or email her directly.