Posted on
Thu, Apr 5, 2012 : 5:45 a.m.
Lilies are a popular plant this time of year, but they can be deadly to cats
By Lorrie Shaw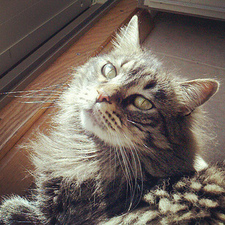 flickr photo by ppsa2mi
Cats
are curious creatures, as anyone who shares life with them will tell you. And while their escapades in exploring the great indoors and outdoors don't typically yield serious harm in the majority of cases, you'd be surprised at what seemingly-innocent items can cause their well-being to be put into jeopardy.
We all know that felines can be seriously injured when they suffer a fall from a window that has been left open or can surely die from ingesting radiator coolant, but one of the most toxic things known to affect cats could be adorning your mantle as you read this.
The Easter season is a popular time to give gifts to others — especially flowers. And with holiday gatherings and travel in the works, this particular danger is a topic that I remind my clients of each year at this time.
Lilies are a common sight when entering most homes this time of year, as many hostesses and Moms out there can attest, and soon the botanical beauties will be shooting out of the soil and blooming in our backyards as well.
Sadly, there are countless cats each year poisoned by Easter lilies and their relatives (Day lily, Asiatic lily ,Tiger lily, etc.) by chewing on or eating them.
And as Dr. Charlotte Kim, DVM of Animal Kingdom Veterinary Hospital in Ann Arbor notes, it's totally preventable.
"Yes, they are pretty, but all parts of the plant are poisonous to cats," says Kim, who specializes in small animal medicine medicine/surgery with a special interest in pocket pets.
This means the petals, pollen, stamen and pistil, so cat-proofing your home and yard is essential.
And, a lot of people aren't aware of the danger, and when their four-footed friend shows signs of illness, it can be too late.
"Prompt treatment is necessary to treat the illness successfully," assures Kim.
A 'wait-and-see' attitude doesn't bode well in cases where any illness rises without warning, and especially with lily toxicosis.
"If an animal doesn't get treatment within 12-18 hours of ingestion, it can die."
It's vital that you take note of your cat's symptoms, document them and convey them to the treating veterinarian immediately. Remember, you are your pet's voice.
What symptoms are consistent with lily toxicosis?
Lethargy
Vomiting
Loss of appetite
Tremors
Seizures
If you haven't seen your cat chew on or eat the plant, the only way to be certain that they are suffering from lily toxicosis is to see parts of the plant in its vomit, so if you can, retrieve what you can of the vomitus and put in a small, sealed container and bring it with you to the veterinarian.
To be clear on why this is such a problem with felines in particular, I asked what specifically happens in the body.
"Acute renal (kidney) failure takes place," Kim replied, "and it occurs as early as 36-72 hours after ingestion."
What are the signs of a cat being sickened by lilies? Once renal failure ensues, a cat will experience:
increased thirst
increased urination initially, followed by lowered urine output, and eventually, no urine output at all
dehydration
At this time, the toxic constituent of lilies is not known.
Treatment objectives for cats with lily toxicosis are limited, at best. Aggressive intravenous fluids to help prevent kidney failure, and in some cases, flushing the stomach can be helpful. This will remove any portions of the toxic agent that are left in the stomach.
As the doctor makes clear, "Prevention is always best."
Cat-proof your home and yard and make it a lily-free zone.
Looking for safe alternatives for Easter plant gifts and outdoor plantings? Here are a few ideas:
Gerbera daisy
African violet
catnip (yay!)
waffle plant
chia plant (we know them as Chia Pets)
hyacinth
purple passion plant
spider plant
orchids
tulips
Lorrie Shaw leads the pets section for AnnArbor.com. Catch her daily dog walking and pet sitting adventures or email her directly and subscribe to AnnArbor.com's email newsletters.