Posted on
Wed, Sep 11, 2013 : 4:20 p.m.
Chicken jerky for dogs recalled after health officials link product to outbreak of human illness
By Lorrie Shaw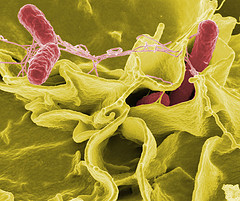 flickr photo courtesy of nutloaf
According to a press release by The
New Hampshire Department of Health and Human Services
(DHHS), one brand of chicken jerky for dogs is being voluntarily recalled because of possible salmonella health risk.
The strain of bacteria found to sicken 21 people in one state has been identified and linked with the same strain found in the product, which is manufacturered by Kritter's Kitchen Kreations, LLC, of New Hampshire.
No deaths have resulted from infection.
The link was discovered after officials at the DHHS Bureau of Infectious Disease Control interviewed those who had become ill. One common thread that was shared, was that each person had handled the same brand of jerky treats.
Though the product, Joey's Jerky, was distributed to six retailers in the state of New Hampshire, it does raise two important points for everyone, regardless of where we live when handling pet consumables: the need for safe handling and handwashing techniques, and saving the UPC code information from product packaging.
Salmonella, also referred to as salmonellosis, causes digestive problems, and dogs will typically present with fever, diarrhea, vomiting and weakness. Other symptoms can occur.
Salmonella can affect other animals — not just the dogs who consume the treats. There is risk to humans, just the same from handling contaminated pet products. People handling dry pet food and/or treats can become infected with salmonella, especially if they have not thoroughly washed their hands after having contact with the treats or any surfaces exposed to any contaminated product.
Click here for more on the recall.
Click here to search our archives of previous recalls.
Lorrie Shaw leads the pets section for AnnArbor.com and owner of Professional Pet Sitting. Shoot her an email, contact her at 734-904-7279 or follow her adventures on Twitter.