Posted on
Tue, Jul 6, 2010 : 10:29 a.m.
Common sense, precautions can protect animals from heat-related illness
By Lorrie Shaw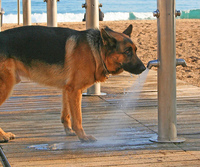 Flickr photo courtesy of Andrew E. Larsen
The current
heat wave
in Washtenaw County affects everyone, including pets.
With the heat index into the triple digits, more care is needed to protect the health of our furry friends. I always recommend a few rules of thumb to keep pets safe and healthy in these sweltering temperatures and brutal sun — especially for very young or senior pets.
Provide adequate shelter and limit activity Just like humans, pets require proper shelter from the sun. I frequently hear: "Oh, dogs are meant to be outdoors, they know what to do." It's true, they do! They are smart enough to seek refuge in shady spots or a sheltered area. They typically take siestas when the temperatures are at their highest, to allow their bodies to stay cool. If at all possible, keep them indoors in the air conditioning. If you must keep your pets outdoors, be sure that they are sheltered from the sun and in a secure place.
If you exercise your pets, do so in the morning when the effects of the heat are at their lowest, and take things slowly!
Keep activity on the streets safe Don't let your pooch linger on hot concrete or asphalt. Because they are so close the ground, your pet's body heats up quickly, and paw pads can burn as they are sensitive. When I'm walking clients, I always walk them on the grass. (Use care to check for signs that a lawn has been freshly fertilized or treated with pesticides and avoid those areas.)
Hydrate, hydrate, hydrate Always provide plenty of fresh, clean water for your pet, every day. We keep bowls inside, of course, and also set fresh bowls outside each morning while our dogs play so that they can drink at their leisure.
Don't leave your pets in the car Temperatures can rise quickly in a parked car. I typically don't even take my pets anywhere with the heat index in the triple digits. The onset of heat stroke can happen quickly, even in healthy pets. If it's uncomfortable for you, it is for them, too!
Don't forget the sunscreen Pets get sunburn, too. Read more here.
Know the signs of overheating It's difficult especially for pets with flat faces, like pugs and Persian cats - they can't pant as efficiently so extra care needs to be taken. Pets with lung or heart disease need to be treated with special attention, too. Dr. Lila Miller, ASPCA vice president of veterinary outreach explains, here. If you suspect that your pet is experiencing difficulty, get them to a veterinary care professional immediately.
Lorrie Shaw resides in Dexter Township with her family and lives her passion as professional dog walker and pet sitter for many species of animals. Staying up to date on the pulse of pet-related topics, she blogs about them frequently. If you have an issue or topic that you would like to see addressed, contact Lorrie viae-mail.