Posted on
Thu, Feb 2, 2012 : 5 p.m.
Dog saved by Ann Arbor ice rescue team after falling through ice near Bandemer Park
By Lorrie Shaw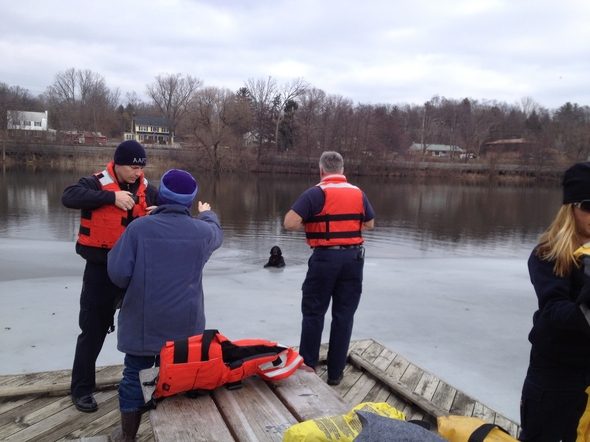 Photo by Cathy Theisen
The topic on the lips of most everyone in the Ann Arbor area is the mild winter that we've had.
The lack of snow has some begrudging Mother Nature, but for those of us who are out and about with dogs regularly, it's been a blessing: no need for tiresome bundling up and unbundling or worrying about losing sure-footing because of slippery surfaces.
With the mild weather comes a constant state of flux, though. Though some of the waterways have had an opportunity to freeze up, these warmer temperatures have allowed for some of that ice to thaw and break up, and that can be a cause of concern when it comes to pets.
One dog found herself in a very precarious situation Wednesday while out for a walk at Bandemer Park.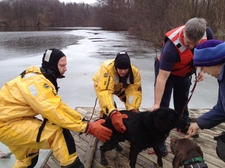 Photo by Cathy Theisen
Mosie, a black mixed-breed dog, was walking with her owner near the banks of the Huron River when she spied a gaggle of geese and began chasing them. That proved to be an unwise decision, because it led her to venture out onto a shelf of thawing ice, where she fell through into the icy water.
Clinging to the ice shelf — which extended quite a distance out and along the bank of the river — and keeping herself above water, Mosie barked at her distraught owner to help.
Understanding the gravity of the situation, and her inability to intervene, the woman immediately waved down another walker in the area, Dr. Cathy Theisen, DVM of Ann Arbor — and made an emergency call to request assistance.
Ann Arbor Police and City of Ann Arbor Fire Department arrived on the scene quickly.
The latter group, as you may know, is trained to handle rescues of this nature and came prepared: blankets, survival suits and gear that help to not only get to the human or animal that needs help, but also keeps rescue teams safe during the process.
The AAFD does hold ongoing trainings for this type of rescue, and this incident provided an ideal training opportunity for rescue team members to test their skills. Since the air temperature was in the 40s on Wednesday, it improved the conditions greatly for the sake of the dog and those involved in the rescue. Safety, however, was still paramount, and all necessary gear was used.
Once the team physically reached Mosie, she had been in the water for about 25 minutes. When she was safely on top of the ice shelf, she was able to walk back up to the riverbank on her own, where she was dried off by personnel.
The dog was then checked out by Theisen, who determined that she was no worse for the wear, and gave her and her owner a ride home since they had walked about a mile from their home.
Mosie's owner never expected anything like that to happen yesterday — and who would?
Theisen, with the permission of AAFD, AAPD and the dog's owner, documented the events as they unfolded with the camera on her smart phone. The dog owner wanted to share her story as a way to help others avoid a situation like this but declined to be identified by name.
As has been the theme over and over again here on the pets section, pets can behave unpredictably, and we can only do our best to keep them safe. This case, as the dog owner wants everyone to understand, illustrates the importance of keeping a pet leashed in unpredictable situations.
Another crucial point if a situation like this does happen: know your location. Time is of the essence when emergency crews are trying to find you.
Thankfully, we know that if the need arises, the capability is there to successfully provide a rescue on the ice. One lesson to take from this situation is that in weather like this, the inherent danger of lakes and rivers is something that we all need to be mindful of.
Lorrie Shaw leads the pets section for AnnArbor.com. Follow her daily pet adventures on Twitter.